05/06/2023 –
Covestro and the Environment
Climate neutrality in the textile coatings industry
Covestro, a producer of polymer materials in Europe, Asia and the USA, believes that regulatory pressure will be important in driving sustainability change in the textile industry – for example, by implementing concrete measures defined under the EU's Sustainable and Circular Textiles Strategy aimed at tackling fast fashion, textile waste and other sustainability issues. But what does this mean specifically for coated textiles?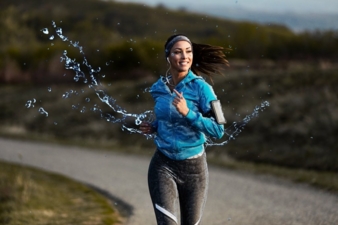 The textile industry is one of the largest CO2 emitters in the world. A large part of the emissions are generated during the production process. Furthermore, a lot of textile waste ends up in landfills every year, and very few textiles are recycled and thus returned to the cycle.
Achieve circularity
In order to achieve circularity, Covestro believes that stakeholders along the value chain must work together to find more sustainable solutions. This starts with the use of more sustainable raw materials and processing methods and leads to efficient recycling technologies. Convesto is convinced that the textile industry does not have to start from scratch. Functional textile coatings offer advantages that increase the durability and performance of products and contribute to waste reduction. In addition, CO2 emissions could be further reduced through existing technologies and material solutions. Water-based "Insqin" polyurethane dispersions (PUDs) from Covestro used in functional textile coatings enable up to 45% lower global warming potential than solvent-based polymer resin equivalents, according to the company. About 85% of the savings could be achieved through a less energy-intensive production process alone, as no DMF recovery is required, it said. Partially bio-based PUDs could realize further greenhouse gas reductions of up to 48%. Covestro's steadily growing "Impranil CQ" portfolio currently contains 34% to 56% carbon from renewable resources, it said. According to the company, the polymer resins have comparable properties to conventional fossil-based raw materials and would therefore be easy to incorporate into existing formulations.
Save up to 85% waste
Another approach to increasing the sustainability of coated textiles is mass balancing, it says. Here, the incorporation of specific starting materials, such as biomass, is guaranteed at an early stage in the value chain. This method is certified, for example, according to the ISCC Plus standard.
 At the application level, modern processes such as digital printing enable advantages in terms of sustainability. Compared to the analog screen printing process, the use of digital printing technology can save up to 85% waste. The desired feel and durability can be achieved with the use of appropriate water-based PU binders.
 Textile recycling, Covestro said, is currently a challenge because there is no reliable, effective infrastructure. In the future, the company said, it will be necessary to design coatings on the raw material side in such a way that textiles can be returned to the cycle.
 Climate neutrality of coated textiles is still a long way off, according to Covestro. However, there are a variety of solutions that could already help reduce the carbon footprint and make textile coatings more sustainable.