A clarion call for the industry
About 150 guests from over 20 Asian, American and European countries met to exchange ideas at Groz-Beckert's textiles symposium titled The Fabric Year.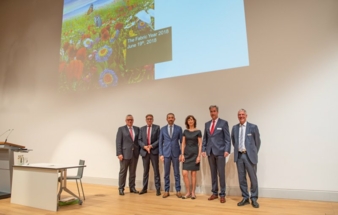 Attendees were taken on a journey through the world of fibres and textiles at an event held in the auditorium of the technology and development centre (TEZ) at Groz-Beckert's headquarters in Albstadt, Germany, in mid-June. Eric Schöller, one of the company's board members, opened the event that provided numerous insights into key textiles markets around the world. Two speakers, Andreas Engelhardt and Martin Weiler (both Groz-Beckert employees), presented the most important facts and figures for national fibre and textile production, continent by continent and country by country. Their production data was divided into knitted goods, woven fabrics and non-wovens.
First up: China vs the US
To set the mood for the Fiber and Fabric Year, Dr Josef Braml of the German Council on Foreign Relations analysed the global competition between China and the US as well as its impact on Europe. He stressed that the "good old days" in which the US had stood up for stability were now in the past—at least for the time being. "When elephants (China and the US) fight, the grass (all other countries) suffers."—Dr Braml used this metaphor to describe the current political situation that has been influencing global trade over in recent months. On the one hand, China is no longer prepared to pay for the United States' wealth and on the other hand, US President Donald Trump's actions have disrupted rules and order all over the planet. Trump has many supporters for his actions and he is "backed" by large amounts of money. According to Braml, the times of the Kennedys and Clintons are over and US democracy is going through a stage of revolution. With his statements "wake up Europe" and "think about Plan B" he called upon nations to work together with reliable partners.
Read the complete article about the event in our printed issue textile network 9-10 2018 which appears on 30th August 2018.