01/12/2020 –
Supply of Merino baselayer clothing for medical personnel
— auf Deutsch lesen
Suedwolle Group: Appreciation through support
Suedwolle Group supports the medical staff in hospitals in Romania and China with high-performance baselayer clothing worn underneath protective clothing.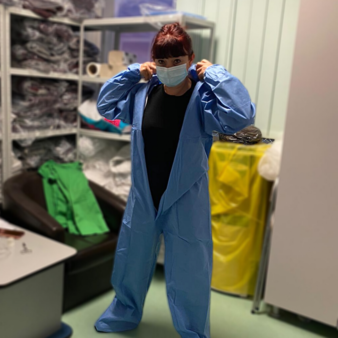 In this way, Suedwolle Group would like to express their appreciation for these people who are doing such a demanding and important job for humanity.
In times of a pandemic, everyone is looking for ways to make a contribution, even on a small scale.
The problem In hospitals where Covid-19 patients are treated, medical staff must wear protective clothing. This is often at sweltering environment where temperatures of 35°C can occur. Under this protective clothing, the skin sweats easily, is in discomfort, itches, and possible skin irritation and rashes can develop.
Conventional baselayer garments, which were primarily made of synthetic fibers, showed poor performance in moisture management and thermal regulation in these compromised conditions.

Up to this point, the garment was worn underneath the protective clothing for three hours and then had to be changed due to the high discomfort.

In addition, ventilation could not be used in summer to prevent further spread of the virus.
The need: Apparel to reduce the discomfort hospital workers experienced in temperatures at 35°C for a longer period of time.
The result: Baselayer clothing that absorbs moisture and provides thermal support!
The solution: baselayer clothing
Suedwolle Group produced baselayer clothing from textile ecxesses with slight colour deviations that were initially intended for sports, outdoor or technical end-uses at their spinning mill Silvania Worsted Spinning (SWS) in Simleu Slivaniei, Romania. With those, the local medical staff was supplied.
Probably the best purpose for recycling Merino waste!
They also joined forces with the Lenzing Group and the Rainbow Company to produce baselayer garments from Merino-Tencel blends to supply the medical team at the hospitals in Wuhan, China. With their amazing thermo- and moisture-regulating properties, Merino wool and Tencel are the perfect natural fibers to be worn under such protective clothing to offer exceptional comfort. Now medical staff can work their shifts without discomfort and without having to change their clothes every two hours.
The next steps
Because these trials have been so successful, Suedwolle Group continues to produce further baselayer garments for hospitals and medical personnel. In addition, their range of medical yarns for all kinds of end uses is either in development or already in use in form of facemasks or clothing. In their dye house in Germany they are also working on the development of a treatment for pure wool yarns to inhibit the growth of bacteria.