Great challenges
Doctors and medical assistants work with x-rays on a daily basis. Since ionising radiation can cause cancer when administered in high doses and damage the DNA that carries our genetic information along with other organs in the body, people with frequent exposure to these rays must be protected.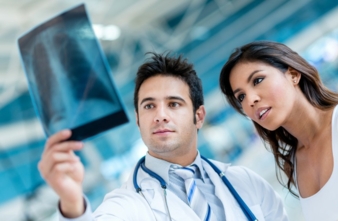 This is why medical practitioners and staff working with x-ray systems wear the heavy aprons we all know from our visits to the dentist's. This kind of protective clothing can weigh up to five kilograms. An x-ray apron contains several layers of a fabric blend, consisting of a base material made, for example, from rubber, and a high-density element capable of absorbing the rays. This protective material accounts for up to 80 percent of the overall weight. Today, protection from dangerous rays is still predominantly provided by lead.
Established in 1969, Burlington Medical Supplies started out as a small company that reconditioned and repaired x-ray aprons. In the decades that followed, the medical engineering sector experienced large-scale growth and expansion. "Burmed" followed suit. Today, the specialist for fitted x-ray clothing employs more than 100 staff at its site in Newport News, Virginia, USA. Over the years, the product spectrum has been extended to include protective eyewear, gloves and a complete line of medical accessories.
As the company continued to grow so did the need for automation and pattern-making technology for its core product range. "In 2003, we decided we really needed to keep up with the times," recalls Betsy Laster, Production Technology Manager at Burmed. "After closely analysing several offers, we invested in the AccuMark MTM software for made-to-measure clothing as well as a cutter for single-layer cutting."
The AccuMark MTM paves the way for computer-aided pattern-making, covering everything from simple modifications to sophisticated, detailed specifications, shortening the entire product development process for x-yray clothing to just one day. The medical staff's body measurements derived from non-contact scanning are fed directly into the AccuMark-CAD system, making made-to-measure applications an exciting reality. AccuMark also allows for customer-specific configurations. If a design needs altering, the information in the system is retrieved and automatically applied to the modification to create the new type of protective apron.
"We are continually adding more detail and cut rules, which make it easier to use the CAD software," states Betsy Laster. The protective substance used in x-ray protective clothing is lead, which is a highly toxic heavy metal. In the European Union, lead has largely been removed from everyday products, such as petrol, paint, dyes and toys. Hospitals disposing of x-ray aprons have to treat them as hazardous waste. Not only is this expensive, but it is also harmful to the environment.
Partially or completely lead-free X-ray protection relies instead on tin, bismuth or tungsten. X-ray aprons designed with barriers made from these metals, may offer greater comfort because they are lighter. However, these replacement materials are not just user and environmentally friendly. In 2005, scientist Heinrich Eder noticed that they may conceal risks that lead does not. Together with scientists from the Helmholtz Centre in Munich, the former radiation protection expert tested the protective ability of the new materials at the Bavarian State Office for Occupational Health and Safety.
Initially, the lead-free aprons appeared to shield the wearer from rays just as effectively as the conventional lead aprons. The researchers found, however, that some of the materials started to give off radiation themselves. Physicists call this phenomenon secondary or fluorescent radiation. The lead-based protective materials from Burmed come in thicknesses of 0.25mm, 0.35mm up to 0.50mm (+/-5%). Current research findings suggest that composite fibres made from cellulose with absorbers could emerge as an alternative solution
There is no question that material utilisation is a decisive factor affecting the profitability of manufacturing (the base material costs around 110 Euro/metre). Burlington Medical Supplies, therefore, invested in a cutter for the automated cutting of single layers. In operation for around ten hours per day, the cutter is equipped with a conveyor belt for continuous material transport. This piece of equipment has allowed the company to improve material utilisation from 54 percent to 90 percent.
[Margarete H. Gaerner]