08/03/2023 –
Weaving in the automotive sector
— auf Deutsch lesen
Stäubli offers solutions
The interiors of virtually all automobiles would be unimaginable without technical textiles. They enable progress, the use of better materials, weight and cost reduction, and higher performance.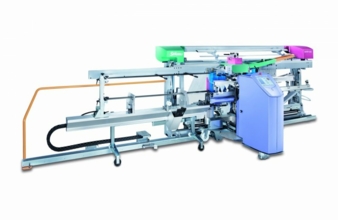 In order for these textiles to meet stringent automotive requirements, weaving as a manufacturing process is often found to be the optimal solution. Therefor the production equipment must meet the highest criteria for quality and productivity. By providing a comprehensive product portfolio Stäubli offers a range of solutions that ensure efficient production and profit optimization in the automotive sector.
With the introduction of additional airbags safety standards have been further elevated. One-piece woven (OPW) airbags are produced on modern high-performance weaving machines. The high flexibility in the design and creation of these airbags requires a high number of hooks at high warp tensions in order to be able to control each warp thread individually. The yarn material used, the complex weaving patterns, and the importance of precise structures demand the use of a reliable, robust Jacquard machine like the Stäubli "LXL PRO". Its lifting mechanism ensures precise shed geometry and guarantees vibration- and fault-free operation even at the highest speeds.
Stäubli also offers proven systems for frame weaving: rotary dobbies and eccentric machines with maintenance-free harness motion. These machines are used worldwide to produce for example seat covers, headliners and trunk lining. Even for weaving mills producing heavy preforming fabrics several centimeters thick used in making lightweight composite parts for car bodies face particular challenges. For this special field, Stäubli offers the modular "TF weaving" system, which provides maximum flexibility in terms of weave variety to produce flat, spacer, and complex multilayer fabrics.
Automated weaving preparation
Warp preparation is a crucial process for efficiency and quality in the mill. In this field Stäubli offers weaving preparation solutions like the various warp-tying machines and the "Safir" warp drawing-in systems. These are intended to provide consistently high quality and reduce weaving machine downtime. An example is the "Safir S32" drawing-in machine for processing filaments with maximum productivity. With a mobile machine base, the machine is placed in the weaving mill where it is needed.