28/12/2020 –
Drop in orders for third quarter 2020
— auf Deutsch lesen
ACIMIT: orders decreased by 26 percent
The ongoing pandemic has hit the Italian textile machinery industry hard, since it is traditionally driven by exports.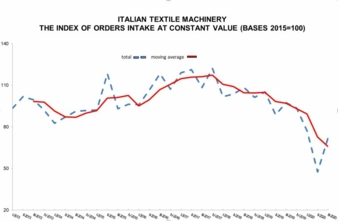 The index of orders intake for textile machinery, as compiled by ACIMIT, the Association of Italian Textile Machinery Manufacturers, for the period ranging from July to September 2020, decreased by 26 percent compared to the same period in 2019. The index value was attested at 72.4 points (2015 basis = 100).
Orders on foreign markets declined by 31 percent, with an absolute index value of 68.2 points. However, an increase of 20 percent was recorded domestically compared to the third quarter of 2019, with an absolute index value of 112.6 points.
Alessandro Zucchi, president of ACIMIT:
"The ongoing pandemic has hit our sector hard, since it is traditionally driven by exports – in fact, over 80 percent of our machinery is exported. The severe restrictions placed on travel, especially abroad, not to mention the uncertainty on the timing of a return to normal business conditions due to the current difficulties in containing Covid-19, strongly affect production activity for the entire industry."
ACIMIT represents an industrial sector that comprises roughly 300 manufacturers (employing around 12,000 people), which produce machinery for an overall worth of around 2.3 billion euros, of which 82 percent are exported. Creativity, sustainable technology, reliability and quality are the hallmarks that have made Italian textile machinery worldwide leaders.