INH Quality Management
When a needle breaks, finding every fragment is a priority in ensuring that there are no potential risks for customers claiming damages.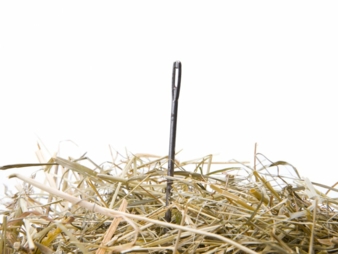 This is where Groz-Beckert's INH quality management provides a novel solution. INH – Ideal Needle Handling – is designed to support companies in their sewing processes and the handling of sewing machine needles.
INH management helps clients meet different brand requirements through a standardised process, while simultaneously improving environmental standards, boosting productivity and complying with other guidelines. Thus, the system creates a streamlined process for handling needles, from receiving needle shipments to documenting breakages and disposing of them for recycling.
The first step to implementing INH is a thorough analysis of the current procedures for handling sewing machine needles. Based on the results and taking into account customer specifications, the INH system is then customised following three steps of implementation:
INH Secure: Understanding existing procedures and integrating them into INH.
INH Balance: Adding INH elements to existing procedures to create a comprehensive INH process.
INH Environment: Analysing and integrating connected processes into INH.
Therefore, the individually adapted INH quality management system is able to close any gaps between the existing production process and applicable standards and is continually reviewed and revised to that end. INH not only provides smooth and time-effective needle handling. It improves time and labour efficiency, thus significantly reducing idle times and increasing output. Waste is effectively minimised or eliminated entirely. The system ensures that needles and their original packaging leave the sewing factory in a recyclable condition. Additionally, regulations regarding the handling of broken needles and ergonomically designed equipment strengthen occupational health and safety procedures, protecting operators and other staff dealing with sewing machine needles.
Tools
At the core of INH quality management is the needle dispensing (INH) trolley. It is specifically designed for the process and optimally configured to substitute the entire original dispensing station, moving the needle dispensing trolley towards the sewing machine instead of the operator to the exchange station. Beyond saving time, this process limits the risk of losing broken needle fragments while moving them to the dispensing counter.
The needle dispensing trolley includes any tools needed for replacing and collecting sewing machine needles. New needles are kept ready to be exchanged directly on the machine and used needles are collected in a box for recycling. Broken needles are immediately attached to storage sheets with adhesive tape and stored in hanging folders on the trolley (basic model).
Additionally, the needle dispensing trolley features an emergency kit including a second set of basic tools for simultaneously exchanging another needle, if needed.
Finally, the needle return box is for collecting and returning broken and damaged sewing machine needles. A scale indicating the length of the needle helps to determine whether all of its broken fragments have been found. A needle log is provided for the documentation of any relevant data.
Smart INH
In addition to the basic needle dispensing unit Groz-Beckert offers a smart version of its trolley. The idea is to reduce time as well as the space required for documenting and storing broken needles in folders, while simultaneously providing an immediate and environmentally friendly disposal by taking pictures of damaged and broken needles, and filing them digitally. The standard work station is equipped with a tablet holder and two software components: the mobile app INH@site installed on the tablet as well as the browser software INH@office. Broken or replaced needles are photographed with the app, which guides the user step by step through an intuitive interface documenting relevant information. Thus, required data such as location and time, production order, line and machine number or operator can be directly attached to the matching photographs. The data can then be retrieved with the browser software using the QR code on the needle log in the return box. Subsequently, the data set is digitally stored and can be accessed, viewed and managed worldwide using the INH@office software. Other features include a dashboard providing a real-time system overview. Further, authorised persons can carry out online audits and various analyses at any time. The software also serves to maintain and manage other information communicated via the app, such as related to machinery and needle types. Thus, all sewing operations can be organised and controlled with INH@office.
Thorough and comprehensive documentation
Smart INH not only records needle breakages, but all needle exchanges, effectively eliminating any possibility of deliberate damage and providing thorough documentation. The application's secure operating system can only be accessed by authorised personnel as determined by the browser software. INH quality management also encourages sewing staff to work autonomously and handle sewing machine needles responsibly.
The INH@site app and the INH@office browser software form the digital heart of Smart INH. Groz-Beckert ensures that an up-to-date version is available at all times, including regular updates and improvements.