17/06/2019 –
ITMA 2019: Zeller + Gmelin
— auf Deutsch lesen
Textol – high-performance lubricants
Lubricant specialist Zeller + Gmelin from Eislingen, Swabia (Germany) presents is Textol product range for textile companies at the ITMA in Barcelona.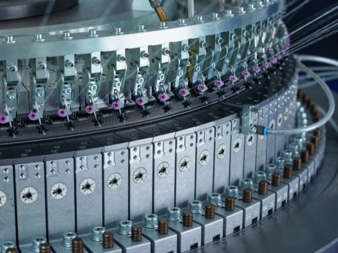 Andreas Flehmig says, Head of Business Unit Textol at Zeller + Gmelin:
"With our Textol lubricants we offer needle and sinker oils for circular knitting, flat knit and sock and hosiery knitting machines, special ring oils, high temperature chain oils, as well as greases, gears and hydraulic oils. By this we would like to present our-selves to a broad specialist audience at the ITMA in Barcelona."
Spinning and knitting machines for industrial use must perform highest precision work, with enormous speed. Typical loads of the textile industry are high temperatures, moisture, dust and lint formation.
Textile companies process several tons of yarn or textile surfaces every day.
During the individual manufacturing processes, reliable interaction of bearings, gears, slide elements, as well as chains is essential. Even the smallest discrepancy of the machines is reflected immediately in the quality of the manufactured textile products.
According to manufacturer Zeller+Gmelin, the Textol high-performance lubricants ensure precision and durability for the machine components. They support the low-maintenance manufacturing process and reduce production costs considerably, as less rejects are produced and the service lives of the machines and units are increased. "High-performance lubricants of the Textol brand for knitting machines are available in 29 different versions," Andreas Flehmig explains. "They are tailor-made for the use in the most different machine types, oiler systems, different fineness ranges, as well for diverse yarn qualities."
The Textol C
The Textol C comprises of special needle and sinker oils with different viscosities that offer high corrosion and wear protection. Thus, they guarantee a long life time of the loop forming elements. Textol C ISO 10 is suitable for both, industrial and household sewing machines. Textol CF Premium is available with a viscosity of 260 mm²/s for chain lubrication during high temperatures (flash point according to Cleveland) / DIN ISO 2592 260 °C).
Furthermore, Textol CF Premium is a lubricant based on fully syn-thetic ester, which offers enormous advantages in efficiency compared to mineral based lubricants, for instance lower soiling tendency, longer service intervals and reduced down times. Maintenance during ongoing operation For a long life time and short machine down times, however, not only optimal lubrication is necessary, but maintenance and cleaning are crucial too. For this purpose the special product Textol R is used. It is a highly effective cleaning oil, which is compatible with plastics and paint. It can be used to remove persistent incrustations not only on knitting machines, but also other textile machines.
For circular knitting machines, the product can be applied in small amounts during ongoing operation to clean soiling in the area of the loop forming elements. The two lubricants Textol WX ISO 22 and ISO 32 are mineral oil based high-performance lubricants. They are especially applied, if already dyed yarns are used in large diameter circular knitting machines. During the development of this new needle and sinker lubricant, next to the necessary minimum requirements for the ma-chine operation, special attention was also paid to the washing out ability of the needle oil in the subsequent equipment. Thus, with the use of Textol WX ISO 32 excellent washing results can be achieved, even with a low surfactant concentration and short treatment time. Thereby malfunctions in the subsequent dyeing and finishing processes are reduced to a minimum
Zeller + Gmelin at the ITMA Barcelona
Hall 8.1, stand A 207