14/09/2020 –
Innovation made in Germany
— auf Deutsch lesen
Merino wool technology for merino jersey
Thümling Textilmaschinen GmbH and Rothycon Roy Thyroff Consulting present a completely new warp knitting technology.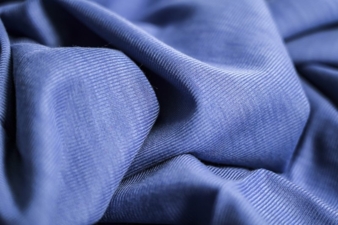 The special feature of this high-end textile
A completely new warp knitting technology allows the production of a high-performance and stable jersey fabric – with all the advantages of natural fibers. Furthermore, the sustainable natural textile is mesh-resistant. This means that if a hole is created by external influences, the fabric will not continue to "rip" and tear. In addition, the innovative Merino Jersey has the advantage over classically available textiles on the market of being able to show significantly better measured values, e.g. in the development of pilling and friction values.
The special feature of the innovative merino jersey is the constellation of binding technology and thread layer, which enables a very durable, light and filigree functional textile made of a natural fiber in the ready-to-wear clothing industry. In addition, the fabric is characterized by mesh strength. The basis for the realization of the textile with its filigree and complex hybrid fiber structures is a special movement in the knitting process, which is a decisive difference to known knitting processes. Merino wool can be processed as a pure natural fiber or as a mixed fiber and yarn combinations of merino wool and polyamide, which gives the product even greater strength and stability. The development of the textiles can also be digitally displayed and simulated on modern CAD systems. Due to the finishing process during production, it can be determined whether the fabric should be felt as warming or cooling on the skin.
The extremely hard-wearing high-end merino jersey made in Germany, Upper Franconia, is a completely new product on the market.

It is also very durable and reduces consumption.

The yard ware can be further processed in a variety of ways and is particularly suitable for functional underwear, underwear, T-shirts, long-sleeved shirts, light sweaters or inlays of outdoor jackets as well as for any application in the textile sector where highly durable goods are a prerequisite, such as gloves or sleeping bags.
Merino wool
Merino wool is also characterized by the fact that it is odorless and does not absorb odors, even after prolonged wear, and therefore needs to be washed less often. It is pleasant to the skin, soft to the touch and to the skin and is very comfortable to wear. It insulates well against cold and heat, transports moisture and can absorb up to a third of its dry weight in moisture without feeling clammy. Therefore, it cools in warm temperatures by evaporative cooling. Merino wool also retains its fit, hardly wrinkles, does not become electrostatically charged, is biodegradable and has a natural sun protection factor – up to SPF 50 depending on density.