Thailand: Thai Num ChokeTextile and the sustainability
Thai Num ChokeTextile Co., Ltd. has two pillarts: industrial and functonal fabrics and natural fibre and natural dye.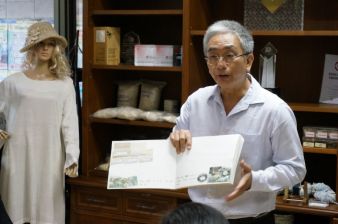 The weaving company produce fabrics for furniture, Home Textile, woven fabrics for industrial production of such fabrics Cherry Bush imitation leather shoes, accessories, sports equipment types. And fabrics for a variety of different types of production needs of customers, especially. Thai Num Choke Textile is an innovative organization with 2010 Thai Excellence Award from office of Knowlegde Managament and Developement (OKMD), Green Design from National Innovation agency /NIA), Eco Design and DEmark awards from Ministry of commerce. 
Industrial and Functional Fabric: Wall covering, PVC & PU coating fabric, Sporting goods, Shoes Packaging
Natural Fiber and Natural Dye: Kapok, Pineapple, Lotus, Banana, Silk, Bamboo, Galanga, Sugar palm, Betel nuts, Colored Cotton
You find some inspirations in our photo gallery. For more information please visit: www.fabricwoven.com