Carl Weiske: The rEvolution hybrid jacket
Carl Weiske takes on the task of building a recycling network to recycle used textiles from a wide range of industries into high-quality yarns.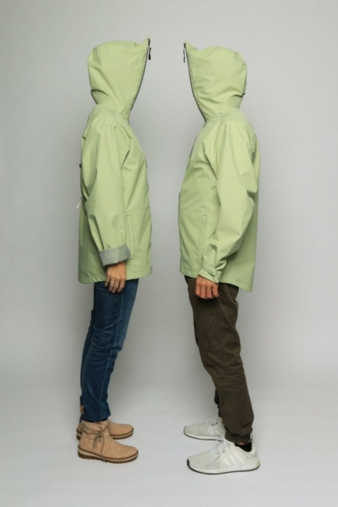 As a project for high-quality textile recycling, Carl Weiske is working as a member of the Wear2Wear consortium to achieve the goal of producing new clothing textiles only from materials that can be recycled and are sorted by type, and to lead them into a closed textile cycle. The task of Carl Weiske company here is among other things to develop a process technology for upcycling the collected and pre-sorted textiles.
Who among us does not know that we live in a world with limited resources?

Despite this fact, we still often act according to the motto "use it and then throw it away," whether in our private lives or in our business activities.

But we need a solution. A completely different approach for a sustainable future.

Let's think together in loops!
Thomas Weiske, managing director of Carl Weiske:
"We can't just dump out the yellow garbage ton and recycle."
According to research, it was found out that some polymers create challenges for recycling and therefore have to be substituted, which has an impact on the design and construction of the textiles. In addition to avoide harmful substances, there is primarily a focus on the design of the final garments. Trims and accessories, for example, can lead to serious contamination and poor performance of the recycled product due to inadequate design to recycle. As a milestone, the Wear2Wear consortium has succeeded in producing an rEvolution hybrid jacket made from used textiles and recycled PET bottles. At the end of its lifetime, it can be completely recycled into high-quality functional textiles.
In other industries, the challenge is to develop the design to recycle concept for different materials, finishes or material blends.

These must also be jointly defined and developed in a way that allows upcycling at a later date.
Sustainable action is often associated with waiving. But well-designed and innovative products can ultimately lead to the success of the circular economy and a paradigm change. For this big task, Carl Weiske is still looking for interested parties who would like to participate in the planned ZIM network (Central Innovation Program for SMEs) on the topic of "Design2Recycle" together with Bayern Innovaitv.
In addition to high-quality textile recycling, the Carl Weiske company is also focusing on other sustainable yarns. Greentex polyester yarns made from used PET bottles can save natural gas and crude oil compared to conventional polyester production. There is a special focus on the extensive testing of harmful substances and the traceability of the recycling loop. In the future, there will also be flame-retardant polyester made from recycled PET bottles.
Textile loops are possible in the clothing industry as well as in the branches automotive, technical textiles, home textiles, textiles for public interior & Co. The company Carl Weiske has therefore set itself the task of building up a recycling network to recycle used textiles from a wide range of industries into high-quality yarns. The clear goal here is also: no harmful substances and no waste into the environment.
The principle of the circular economy is designed to ensure that no more waste or garbage is produced when new products are manufactured. Only resources that are already available are multible times reused. The aim is to achieve the highest possible quality standard for secondary raw materials so that they can be recycled again.

Another important aspect for the sustainable implementation of the closed-loop system is to avoid harmful substances in the products.

A growing number of chemical substances are already classified as harmful to the environment or health.

The EU Commission also supports the goal of the circular economy with the GreenDeal and plans to become climate-neutral by 2050.