7 days countdown to launch date
Visitors prepare to launch into a Galaxy of Print at FESPA 2015. The countdown is on for the largest wide format print event of 2015. In 5 days' time, FESPA 2015 will open its doors to transport international printers from across the wide format universe into a galaxy of print! This year FESPA's Global Expo brings together four events, including: FESPA 2015 addressing screen, textile and digital wide format printing, FESPA Fabric for garment printing and decoration, European Sign Expo for non-printed signage and visual communication solutions and Printeriors, the new interior décor showcase and conference.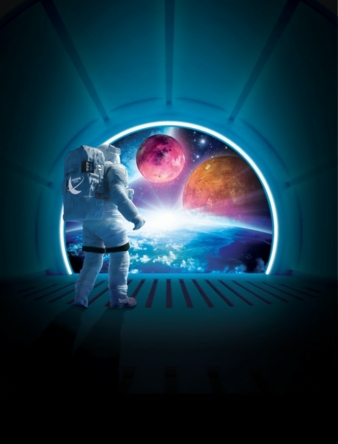 Together, these events mean there is more to engage with than ever before, and with just five weeks to go, it's time for visitors to begin making their final preparations. This five-point checklist should help visitors take the first steps in planning their voyage to FESPA 2015:
5 Pre-register to avoid paying onsite fees
Visitors planning to attend FESPA 2015 should pre-register at http://bit.ly/1xRN50j. By doing so now, you will not be charged the onsite registration fee of €70.
4 Take advantage of the flight and hotel offers
FESPA is continuing its partnership with Lufthansa Group to offer discounted flights for visitors. This year, additional destinations and airlines have been included in the Lufthansa Group deal. Delegates planning to travel to FESPA 2015 will not only be able to get discounted flights to Cologne Bonn Airport, but also to Frankfurt and Düsseldorf – both within easy reach of the FESPA 2015 host city by train. To take advantage of these rates, visit: www.lufthansa.com/event-booking_en and quote 'GBSEGFD' to access the booking page.
Visitors planning to stay in Cologne for more than one day can also get the best possible rates with FESPA's preferred accommodation partner, Avantel. Visit www.avantel.de/Fespacologne2015 to find hotel rooms at discounted rates.
3 Plan your time at the show
With more than 700 exhibitors demonstrating technology, applications and consumables for the digital, screen and textile print and signage industry, there is more than ever to see at FESPA 2015. Visitors will also have the chance to explore new and growing sectors like industrial, digital textile and fabric print, as well as direct-to-garment technology.
Visit the FESPA 2015 website for the full list of confirmed exhibitors.
2 Familiarise Yourself with the Educational Content
There will be two main conference hubs at FESPA 2015; The Education Hub (Hall 8), which will provide pertinent insight and inspiration into digital, screen, industrial and textile printing, and the Sign Hub - a theatre dedicated to signage - located in European Sign Expo (Hall 7).
FESPA's new interior design showcase, Printeriors (Hall 9), will host its own dedicated conference on Thursday 21 May. The complete content programme will ensure that all aspects of wide format speciality print are covered at FESPA 2015 Global Expo. For information on all sessions click here.
New to FESPA 2015 is the Industrial Print Showcase (Hall 8), delivered in collaboration with ESMA. The showcase will build on the exhibition's 50 year heritage as the leading event for the screen industrial sector. The showcase will highlight the cutting edge innovations that are taking place in industrial printing using both screen and digital processes. It will create an easily identifiable destination area where visitors with an interest in industrial applications can see what is happening in industrial print, enabling visitors to investigate further any items of particular interest.
1 Enter and attend the FESPA Awards
Shortlisted entries to FESPA's annual awards programme, which celebrates print excellence, will be showcased at FESPA 2015. The global competition is open to any print service provider, culminating at the prize-giving ceremony at FESPA's Gala Dinner in Cologne on 19 May.