19/05/2022 –
Sustainable Apparel Forum
Accelerate apparel sustainability in Post-Covid
Policy makers, industry leaders, brands' representatives and fashion campaigners gathered in Dhaka to accelerate momentum of sustainability in Bangladesh's apparel industry.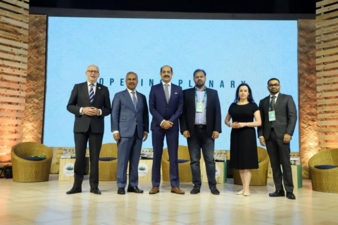 More than 50 speakers as well as 20 green growth exhibitors from over 20 countries participated on May 10, 2022 in the 3rd edition of Sustainable Apparel Forum (SAF), organized by Bangladesh Apparel Exchange (BAE) partnering with Bangladesh Garment Manufacturers & Exporters Association (BGMEA).
Five plenary sessions on 'Demystifying Climate Action', 'Purchasing Practice', 'Environmental, Social & Governance & Green Finance', 'Closing the Loop: Circular Economy in the Fashion Industry', and 'Due Diligence and Legislation' were held at the SAF along with an opening plenary and a closing plenary. Senior representatives from globally renowned recycling and renewable energy companies were in attendance and exhibited their sustainability and green technologies, products and solutions at the SAF.
Founder and CEO of Bangladesh Apparel Exchange (BAE) Mostafiz Uddin:
"At this year's SAF we have brought all the fashion stakeholders under one roof to accelerate the momentum of sustainability in Bangladesh apparel industry, especially after the Covid-19 pandemic which has had immense impact on global apparel supply chain. This is high-level networking where it has been discussed how we can turn the needle so that the lofty sustainability goals our industry so often talks about are translated into meaningful, practical actions?"
In the closing plenary of the SAF commerce minister Tipu Munshi, MP, said: "Bangladesh government is committed to ensuring sustainable growth of Bangladesh apparel industry." "I will try my best to help Bangladesh make the transition into a sustainable future," he added.
BGMEA president Faruque Hassan:
"Today our clothing factories are not only safer, but also have become more dynamic, modern, energy-efficient and environment-friendly. Bangladesh has by far the highest number of green garment factories in the world. US Green Building Council (USGBC) certified a total of 160 Bangladeshi factories as LEED (Leadership in Energy and Environmental Design), among them 48 are LEED platinum-rated. 40 out of the world's top 100 garment factories are in Bangladesh. Moreover, 500 more factories are in the pipeline for certification. BGMEA joined the UN Fashion Industry Charter (UNFCCC) with an ambition to reduce GHG emission by 30% till 2030."