Good for Remei's organic farmers
Long-term economic growth, the creation of jobs, humane working conditions: Remei is demonstrating how SDG 8 can be applied in the textile industry.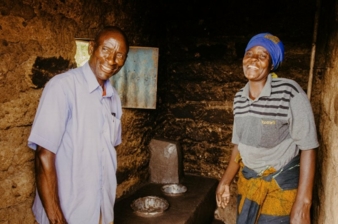 Climate protection, gender equality, access to education – by 2030, the 17 Sustainable Development Goals (SDGs) aim to create a better and more sustainable future for people and the environment. And the fashion industry plays a major role in this: as one of the biggest – and most polluting – industries in the world, it makes a significant contribution to environmental problems and global, social inequalities. This makes it all the more important to promote decent work for all and generate economic growth, as set out in SDG 8.
What can companies in the textile sector do to improve the industry?
Swiss yarn and clothing producer Remei is showing that there are various ways to protect employees that also boost the economy in the process: with its purchase guarantee, Remei bears the risk of market access for their organic cotton, thereby providing security for the organic farmers.
 Payment forms the basis of fair trade and, beyond that, an extra premium of 15 percent for the cultivation of organic cotton gives the farmers security and the freedom for individual development.
With this inclusive business model, Remei is improving product quality, doing its bit to protect the environment and providing security and future prospects for the local farmers.
Less smoke, more forest and better health
By financing biogas plants and efficient stoves in the cotton growing regions in India and Tanzania, the company is actively improving the living conditions there and looking after the health of the organic farmers. There are several advantages to this: the biogas plants and efficient stoves produce little to no fumes compared to the traditional open fires that required a lot of wood and caused smoke to billow directly into the farmers' homes. They also reduce the need for firewood, thereby counteracting the massive levels of deforestation, while also protecting the health of the local people. The local economy also profits from the creation of new jobs for stove builders or brickmakers. A win-win for everyone involved – people, the planet and the economy.