Successful platform for the fashion industry in Asia
With the autumn event from 28th to 30th August 2023, CHIC, China International Fashion Fair, has successfully concluded at the New Exhibition & Convention Center in Shanghai with over 400 exhibitors on 53,000 sqm and more than 50,000 visitors.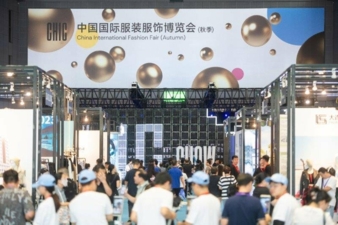 CHIC Autumn has successfully repositioned itself as the leading platform for supply chain solutions in the fashion industry. The show featured market leaders, newcomers and niche brands in three different halls, showcasing the latest developments in the Chinese apparel market. These included the eight exhibition areas: CHIC Selected, Tailoring Journey, Unique Specialities, The Wardrobe, Denim World, Fashion Tech, Emerging Talents and Accessoires/Footwear/Bags.
CHIC featured 18 match making events that were appreciated by exhibitors and visitors alike. These events facilitated efficient business meetings between buyers and suppliers. Many attendees praised the exhibitors` preparation and the opportunity to learn about new designs, materials and technologies. Chen Dapeng, Präsident CHIC and China National Garment Association, summarized: "There are indeed many new top companies in China that are indispensable in the international supply chain. CHIC provides the necessary face-to-face forum for dialogue, networking and establishing business contacts. Industry leaders, including well-known brands, organisations and the trade come together here. Especially the increased interest of the numerous international visitors proves the intercontinental interconnectedness of the fashion industry. CHIC acts as a service agency for the entire fashion industry and trade!" In addition, seminars, workshops and fashion shows were held, highlighting the latest developments in the fashion industry and positioning CHIC as a center of excellence. Market leaders such as Kutesmart, Benzhaori, Yabaobao and Sevenyigo presented their latest creations during the CHIC shows. The CHIC WeChat Mini program played a crucial role at the show, as it was used for visitor registration, business matching and livestream publishing.
The next spring CHIC event is scheduled for March 2024 and will be held at the New Exhibition & Convention Center in Shanghai. It is expected to feature more than 1,600 exhibitors and brands and more than 170,000 visitors, including international attendees from Italy and France. The focus will be on brand presentations and retail.
Next date: CHIC Spring March 6th – 8th, 2024 National Exhibition & Convention Center (Shanghai)