Welcome to Miami!
With the motto #MarcCainRocksMiami, the premium fashion brand Marc Cain has opened its first ever pop-up Store in the Florida metropolis of Miami.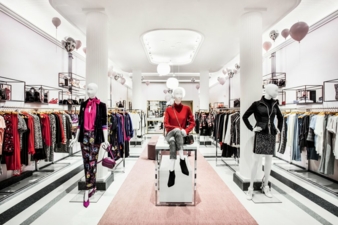 The pop-up Store is located in a high-quality brand environment: the Brickell City Centre Mall on South Miami Avenue, in the centre of the commercial and financial district in Miami. The new Store, with a total area of 131.3 sqm has initially been rented for a year with option to renew, expand or open a permanent Store. A new Store concept was designed especially for the pop-up Store, one that has been developed separately from the existing look.
A vibrant pink
The Store opening on September 28th, 2018, featured both windows decorated with pink balloons and bordering mannequins, as well as a Photo Booth for guests. The premium brand for women's fashion already has three Stores in the US and eight Stores in Canada. The new pop-up Store in Miami has been set up to build on the existing success in the region.
"For Marc Cain's first ever pop-up Store, we specifically targeted none other than Miami's architectural mecca: Brickell City Centre. The Mall caters to the modern woman, who is on the go and seeking a full service luxury shopping experience. The Miami woman is vibrant, full of life and expresses herself through her personal style. From exclusive prints to finding the perfect fit, Marc Cain's collections show no shortage of variety," explains Stephen Belfer, Managing Director Marc Cain USA.