VIEW Premium Selection: Inspirational 2017 Summer Season Opening
The latest developments in fabrics and accessories plus important initial impulses for material and colour trends from more than 300 pre-collections by top international weavers and findings suppliers – with its convincing, innovative portfolio, VIEW Premium Selection, on 9 and 10 December 2015, in Munich, MVG Museum, Ständlerstraße 20, provides the fashion industry with the perfect platform for a powerful start into the 2017 Spring/Summer season.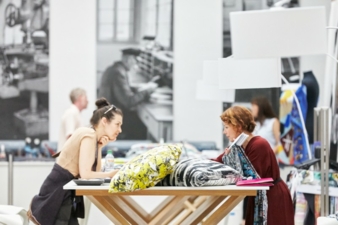 Designers and buyers for internationally renowned brands will be arriving in Munich to gather information about innovations, highlights, trends and colours for the upcoming season. With its various segments: VIEW FABRICS for textiles, VIEW ADDITIONALS for findings and accessories, VIEW DENIM & SPORTSWEAR and VIEW DESIGN STUDIOS for unique print and pattern designs, VIEW offers the European fashion industry an exclusive selection of all components necessary for a strong start in the new season – already at this early date.
VIEW Pre-Trends 2017 Spring/Summer
The trends for the 2017 Spring/Summer season are filled with emotion. Textile lightness, subtle use of technical looks and widely varied haptic surfaces reveal an undeniable love for materials. The combination of timeless elegance and visible naturalness serves as a basis for the collections. Manteco, TMG and Pordenone stage this perfectly in fabrics, while Fauck prefers leather. Sensual hands in super-soft, flowing dry goods remain predominant – Niggeler&Küpfer with DualFix and silicone finishes, as well as Tejidos Royo with modal and Tencel mixes are excellent examples. Shimmering patterns and functional finishing come with even more natural haptic. Enriched with travel memories, future visions and festive atmospheres, fabrics are displaying the perfect mix of technical know-how, romanticism and relaxed chic.
In the VIEW TREND FORUM, which shows the innovative highlights in fabrics and findings for menswear and womenswear, as well as denim and sportswear in an inspirational setting, selected trend agencies such as Peclers Paris and newcomers WGSN and Promostyl expand the inspiration pool. As an internationally leading trend forecaster and MUNICH FABRIC START competency partner, WGSN will provide a forecast of new tendencies for the 2017 Spring/Summer season, presented by Helen Palmer, Director of Materials, Textiles and Knitwear at WGSN, in an exclusive seminar. A few short weeks after VIEW, the collections will be presented in their thus far final form at MUNICH FABRIC START from 2 to 4 February 2016. As the first European fabric fair of the year, MUNICH FABRIC START with its roughly 950 suppliers forms the international kick-off for the 2017 Spring/Summer season. Concurrently, BLUEZONE takes place on 2 and 3 February 2016, once again strongly positioned with approximately 80 leading denim and sportswear brands.