Digital fashion for kids "Made in China"
Today, Chinese fashion labels are investing in quality and digital technology. Les Enphants takes the lead and gets European support on board.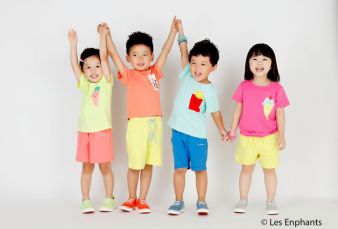 Low quality and cheap labour were yesterday. The rising standard of living in China and higher consumer expectations demanding current, high-quality and affordable fashion are forcing the industry to adapt its strategies. Today, Chinese fashion labels are investing in quality and digital technology. Les Enphants takes the lead and gets European support on board.
China's economy is soaring and its government has every intention of continuing this trend. The "Made in China 2025" programme is designed to modernise China's industry, catapulting it into the digital age of smart production and boosting its economy with added value. This strategy is conceptually based on Germany's Industry 4.0.
 Already, local businesses are facing demanding challenges, especially in the fashion industry. Les Enphants is no exception. Established in 1993, the Shanghai-based company employing 3000 staff, is one of the biggest kids clothing and sportswear manufacturers and sells its products in 1600 stores, some of which are brand owned. In order to meet rising customer expectations, Les Enphants had to streamline its production chain. On the one hand, product development had to be accelerated in order to keep up with ever-changing trends and cut down on the time to market. On the other hand, the aim was to increase product quality, but at no additional cost. To achieve its ambitious plans, Les Enphants decided to implement a PML (product lifecycle management) strategy across its entire supply chain and found its perfect match in Europe.
Know-how from Europe
The French company Lectra is one of the world's leading providers of integrated software and hardware solutions with services tailored to the leather and textile industry. It is also a driving force behind the digitalisation of Germany's fashion industry. Lectra's fashion PLM solution for Les Enphants is based on a modular and service-oriented structure with an intuitive user interface and a platform designed to seamlessly integrate with any internal company applications. In addition to modules for the management of collections, scheduling and accounting, the PLM platform features process-oriented applications for design, model and pattern creation. This allows designers at Les Enphants to bring their visions to life digitally with the help of a 3D software.
The PLM's modular structure makes it possible for all company departments to access and work with the same data, quickly distribute important information, simplify communication between individual teams and thus speed up product development. Additionally, standardised operational processes reduce and streamline time-consuming production steps. This allows Les Enphants to react instantly to emerging trends and increased demand, for example, by preparing last season's best-sellers in as little as half an hour and going into production the same day. Previously, this process could take several days due to necessary product information not being centrally stored and accessible. PLM solutions also provide better control over production costs. A transparent and comprehensive overview of all relevant information, from quotes on materials to production time, gives companies the tools to accurately and precisely calculate the amount of fabric, yarn and accessories needed, saving time and money in the process.
Tailored Transition
Switching to a PLM platform came with its own challenges for Les Enphants, including retraining staff. Implementing the system required some time while fixed and tight deadlines still had to be met. In order to make the transition as smooth as possible, Lectra sent a team of service experts to analyse the operational processes beforehand, whilst introducing employees to the new system and supporting Les Enphants every step of the way. Essential for the successful implementation was the close collaboration with the project managers involved and most of the staff became familiar with the new system within three months. For Les Enphants PLM is a long-term solution. The company's future relies on several separate, sometimes remote teams working closely together, making a digital exchange of information essential.
Many Chinese fashion producers are affected by the change in consumer patterns, e-commerce and fast fashion. The rising standard of living in China means that consumers are also demanding new, high-quality and affordable fashion at ever shorter intervals. China is now heavily investing in intelligent manufacturing processes, driving the digitalisation of the clothing industry and accelerating product development. In the land of the setting sun high-quality digital production is rising.