New company strategy up until 2019
At the Strategy 4.0 press conference Daniel Harari, CEO Lectra, presented its company strategy up until 2019. The company has identified four mega trends.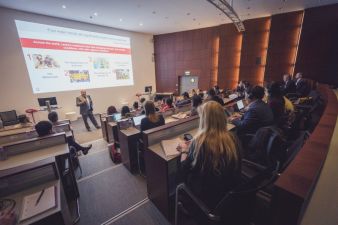 This four mega trends will already fundamentally changing the fashion, automotive and furniture industries. The Lectra's strategy is closely aligned to this. Read more about in our online magazine!
1. The Millennials, who as employees and buyers, are breaking all the established rules, have different needs and are demanding higher quality, customisation and sustainability.
 2. The digitalisation of companies which paves the way for intelligent, networked technologies driven by the customer demand for high-quality, customised yet affordable products.
 3. The switch to Industry 4.0 with a digital supply chain, from creation to production, with networked communications extending from the staff, through intelligent machines to the end consumer.
 4. The realignment of the Chinese economy, triggered by the country's economic rise and supported by the "Made in China 2025" government programme to modernise Chinese industry.
 "Progress and change are the companions of business. We find ourselves in a volatile world in which companies have to respond flexibly to change. Thanks to Lectra's soft and hardware solutions and industry expertise, our customers are now ready to face these challenges. Our current company strategy creates the foundation for their future," Daniel Harari concludes.
Read more about the new strategy of Lectra in our printed issue textile network 7-8 2017 which will be published on 30th June 2017!