Entrepreneurs go digital from the start
Virtual teamwork is gaining momentum in the textiles industry. This is why start-up Airpaq relies on digital tools for its upcycling business.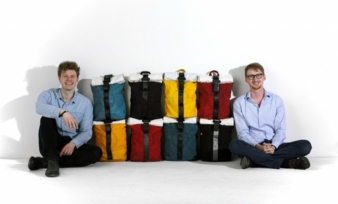 Adrian Goosses and Michael Widmann share a vision: Sustainability in the shape of upcycling and fair production conditions. In an attempt to get their ambitious project off the ground, they launched a crowdfunding campaign back in 2017. This attracted the princely sum of EUR 70,000 and marked the beginning of Airpaq. The company name says it all. Airpaq turns airbags and old safety belts into trendy backpacks. Airpaq works with the rejects of a major airbag manufacturer whilst the safety belt buckles are salvaged from scrapyards. The concept is self-supporting. In the year since their online store was launched, the young entrepreneurs have already sold more than 2,000 backpacks. They are currently producing around 400 units every month. "It's going really well," says Adrian Goosses.
Working independently – anywhere
And this is quite a feat, considering he lives around 1,500 kilometres away from his colleague! Goosses lives and works in Cologne, Germany, whereas Michael Widmann is located in Bolzano, Italy. The backpacks are produced in the Romanian city of Timisoara, which is also home to the company's designer. Despite the distances, they can all work together seamlessly via the Cloud and Microsoft Office 365. When working on a new a leisure/PE bag from airbags, for example, they were planning a video for the launch. "During the decision-making process with our film producer in London, we used Sharepoint and Skype for Business," states Goosses.
Just two of many tools
Office 365 brings together a diversity of tools for virtual collaboration. They make it possible to discuss ideas and projects on a video screen. Rather than sending drafts and sketches for new designs by email, the designer discusses new colours and styles with the management directly online. Thanks to Skype for Business they can all see each other on the screen, whilst working together on new designs and production plans.
Think about digitalisation right from the start
"The 'Planner' tool also helps us to organise and allocate tasks more efficiently," states Adrian Goosses. "We can see in the system who has already responded to which customer enquiry." Thanks to the Cloud, the company founders store and share all documents online in the SharePoint. This has the huge advantage that everyone works on the same files. This means that it is no longer necessary to compare different versions and then merge them into a single document, reducing the risk of errors and speeding up work processes. In the past, things were very different: documents had to be laboriously sent by email and adjusted accordingly. This interrupted the information flow and impacted productivity. "Anyone wanting to found a company should think about digitalisation right from the start," says Managing Director Goosses. Besides the diverse tools offered by Microsoft 365, the founders are also impressed with Microsoft's subscription model. "This always gives us access to the latest Office versions, so basically we pay for Word, Excel and Outlook per user and per month," says Widmann. Another hidden benefit is that the founders no longer have to think about software updates or operating local servers – it all takes place in the Cloud.
Kirsten Schmidt