ISPO: ski pants "made by Microfactory"
At the ISPO in Munich, Microfactory 4 Sports will be producing ski pants live.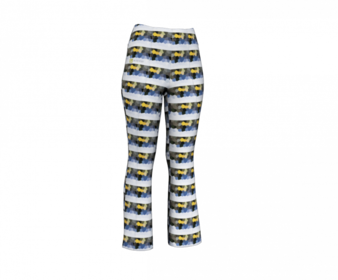 From February 3rd until the 6th, Microfactory 4 Sports will show visitors at the ISPO in Munich, how the sportswear sector can benefit from digitalization. The Microfactory is coordinated by the DITF Denkendorf. Other companies involved are Assyst, Caddon, Dürkopp Adler, Ergosoft, Mimaki, Mitwill Textiles, Multiplot, Pfaff Industrial, Stoll, Zünd and Albstadt-Sigmaringen University.
The companies have already presented their Microfactory at several trade fairs, showcasing how their solutions fit perfectly together for the development and production of apparel. This time, ski pants and shoe uppers will be produced live. "So far we have mainly produced tops and running pants at trade fairs. The ski pants for the ISPO are a completely new product," says Dr. Andreas Seidl, managing director Assyst GmbH. The ski pants were developed by students of the Albstadt-Sigmaringen University of Applied Sciences with the support of Assyst.
3D-form-knitted outer fabrics for sports shoes
Also for those interested in shoes, there is something to see: The Stoll company will produce live automated 3D-form-knitted outer fabrics for sports shoes and show the fully integrated process from the 3D model of a shoe to the direct control of a flat knitting machine.
Microfactory 4 Sports
ISPO Munich 2019
February 03-06, 2019