Medical workwear made from natural fibre
Healthy and sustainable medical workwear for hospital and care home workers.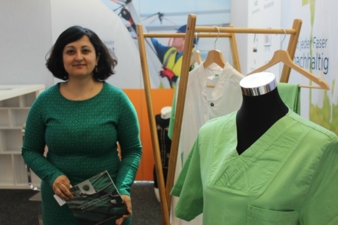 This young company from Bonn in western Germany manufactures medical workwear for hospital and care home workers – garments made solely from natural fibres, including ecologically produced cotton and wood cellulose free from genetically modified material. No use is made of chemical dyes or polyester.
To founder Dalia Hasan, the benefits are obvious:
"For hospitals and care homes, workwear from Green Textile Solutions provides all workers with a high degree of protection from bacterial contact, and helps regulate body temperature." Moreover, conventional supply chains for workwear in the B2B sector are neither transparent nor sustainable. Nearly all suppliers work through intermediaries. Says Hasan: "We work directly with specialist producers who have GOTS and Fairtrade certification." The use of workwear from Green Textile Solutions, she continues, also helps to prevent environmental pollution in the country of production, unfair working conditions and child labour.
For example, Green Textile Solutions works with a factory in southern India that brings to the table 20 years' experience in the field of ecological cotton farming and Fairtrade production. It also produces items for the Swiss police and for major Swedish companies. The production facility is certified under four schemes including Fairtrade and GOTS. Green Textile Solutions' first collection includes doctors' tunics and trousers, theatre gowns and trousers, and polo shirts.
Read more on our german website.