10/02/2023 –
Trade fair
Milano Unica: Strong increase in international buyers
The curtain fell last week on the 36th edition of Milano Unica, 31 January – 2 February, with an encouraging balance in terms of visitor attendance, especially from abroad.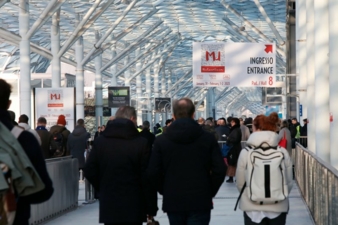 Visitors to Milano Unica, the Italian trade show of high-end fashion textiles and accessories, totaled 5,304, up 47.5% over the February 2022 edition, including 1,500 international (+105%) and 3,804 Italian (+33%). 475 international companies presented their collections of high-end textiles and accessories for the Spring/Summer 2024 season for menswear, womenswear and kidswear at Fiera Milano Rho.
"All the most important export markets for Made-in-Italy textiles recorded significant numbers in absolute values and double or even triple-digit percentage increases," commented President Alessandro Barberis Canonico. Official figures confirm the recovery of some important countries, with a very strong increase in attendance from Korea, as well as sensational upswings from Japan at +423%, USA +143%, Great Britain +77%, Germany +67%, and France +32%. Special attention should also be paid to Italian visitors, up considerably on already very significant numbers.
Sergio Tamborini, President of Sistema Moda Italia, was particularly impressed with the outcome of this brilliant edition, and felt compelled to add the following comment: "This edition of Milano Unica is definitely positive for the significant attendance and presence of buyers and industry operators, with an important share from abroad. But it is particularly on the product front that we can see important steps forward in terms of high quality going hand in hand with sustainability. Process traceability, which is becoming increasingly relevant in the textile narrative and in the fashion system, is now turning the spotlight on the virtuous players who put it at the center of their production."