29/07/2022 –
Trade fair
Première Vision Paris dedicated to F/W 2023/24 collections
Première Vision Paris brought together over 23,000 visitors for a strong edition from July 4 to 8, 2022, and confirms a change of calendar.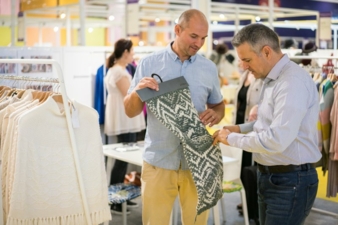 Historically held in September, Première Vision Paris continues to build on its success with its new summer positioning. Designed to better cater to the evolving cycles of the fashion industry, as well as to the needs of manufacturers, this calendar change has won the market's approval. A 32% growth in the creative offer (vs. September 2021), the return of international visitors, and the industry's reinforced commitment to eco responsibility issues addressed by Première Vision all confirm the event's strategic choices.
The physical edition, which attracted 23,377 visitors (+37% vs. September 2021 and +10% vs. February 2022), underlines the positive momentum of the event, with a solid turnout, especially on its first day, despite rail and air strikes, and despite a call for telecommuting issued by the SNCF (France's national railway) to its users.
"We are pleased to have finally been able to respond to market demand with a new agenda that has been brought forward by two months. The creativity of our offer, the energy of our visitors, the return of distant markets, the challenge of eco-responsibility, and the success of the new services we offer are all strong and encouraging signs that we are able to sustain our activity despite the current context," confirms Gilles Lasbordes, General Manager of Première Vision.
Growing visitor numbers
With international attendance at 69%, and a notable return of the United States and Korea, respectively in the Top 10 and Top 15 positions, international buyers turned out to discover the ultra-premium collections of 1,200 exhibitors. This growing creative offer (+32% vs. September 2021 and +10% vs. February 2022) also had a strong international dimension, with exhibitors coming mostly from Europe – with Italy in the lead, followed by France, the United Kingdom, Spain, Portugal, and Germany – as well as from the Mediterranean basin – Turkey, Morocco, Tunisia – and from Asia – Japan, Korea, India.
In a context where, in addition to the still latent health crisis, we now face an unstable international situation related to the war in Ukraine, which affects all markets in terms of business and industrial factors (rising raw material prices, supply difficulties, logistics, etc.), this growth both in attendance and offer around a brand new calendar reflects the fashion industry's solid confidence in the Première Vision Paris show.