Schoeller Textil: The new art of living an urban lifestyle
In its new Cosmopolitan collection, Schoeller Textil AG has identified exactly what people desire. Urbanites desire textiles that look and feel natural in direct contrast to the architecture of the big city.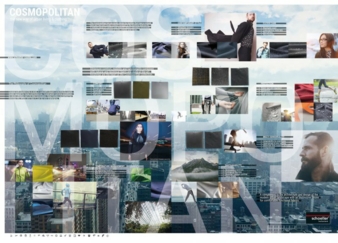 Cosmopolitan offers these global citizens exactly the comfort and mobility needed to move naturally and seamlessly through life.
This sort of multifunctionality – a combination of first-rate style and high performance – means cosmopolitan people are independent of time, climates and trends.
The Cosmopolitan collection from Schoeller is specially created with modern life in mind. Its palette of textures, colors and functional attributes allows designers all over the world can create livable apparel for today and tomorrow. All the fabrics have been tested under extreme conditions, such as harsh alpine environments or the wide variety of weather conditions experienced by commuters cycling to work.
These textiles are ideal for everyday life, which, let's face it, can be challenging enough.