Sustainability and digitalisation at Munich Fabric Start
The international fabric trade show Munich Fabric Start is initiating a combined area for sustainability and digitalisation in the centre of the show in January.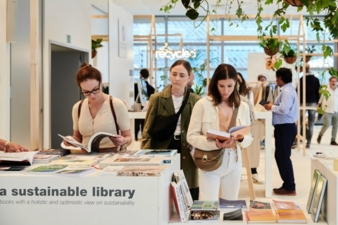 At the Spring/Summer 24 Edition from 24 to 26 January 2023, the Munich fabric fair will focus even more on sourcing sustainable material developments and solutions for digitalisation from product to production. To this end, the Munich-based event will relocate the ReSource area, which is becoming increasingly important for the industry, with around 600 innovative fabrics and add-ons that are bio-certified, bio-based, recycled, recyclable or from regenerative sources, to one of the most frequented trade fair areas – Hall 2 at the MOC.
Digital Loop – Transformation in the fashion business
Among others, some seal providers and industry initiatives will be represented at ReSource with expertise, consulting competence and market information. In the immediate vicinity, also in Hall 2, the new Assyst Experience will be located: in cooperation with Munich Fabric Start, the fashion tech market leader will demonstrate the possibilities of digitalisation for the fashion industry on an area of around 300 sqm. Together with technology partners, the entire development process for clothing, from colour, fabric and product to production, can be experienced digitally.
Presentations on burning issues in the industry such as sustainability and crisis-proof returns round off the programme. In addition to Assyst, Caddon, Stoll KM.ON, Triple Tree, Verce and Vizoo will also be exhibiting at the Assyst Experience.
"As omnipresent as the topics of sustainability and digitalisation are, the need for information, discussion and advice remains high. That's why we will once again be focusing on these two topics at the coming Munich Fabric Start, we will once again place great emphasis on these two topics – both visually and in terms of content. Starting with the leading theme 'Dare & Care', new exhibitors and areas and a top-class exhibitors and areas to a top-class lecture programme," says Frank Junker, Creative Director Munich Fabric Start.
Keyhouse and Bluezone
Smart Textiles, Future Fabrics, new technologies and digital production processes for the textile chain – Keyhouse will also be dedicated to these topics from 24 to 25 January 2023. Among the exhibiting newcomers and innovation leaders are Circular Fashion, Dystar, CLO Virtual Fashion, Biotexfuture and Toray, which will be presented and staged in the interactive innovation hub of Munich Fabric Start on more than 1,000 sqm.
For Spring.Summer 24, the Sustainable Innovations area curated by Simon Angel will feature Verena Brom, Chamille Champion, Zena Holloway, Robin Hoske and Felix Rasehorn, Mehdi Mashayekhi, Savine Schoorl, Birke Weber and Friederike Hoberg as particularly up-and-coming talents. The main lecture forum of Munich Fabric Start with exclusive keynotes, panel discussions, trend presentations, Q&A sessions & expert talks by international industry insiders is also located in the Keyhouse.
Bluezone is also completely booked with some 90 brands. Under the leitmotif Discovery, the internationally strong denim tradeshow in January invites all fashion people and denim experts to share moments together and discover and drive the latest highlights, innovations and changes in the industry.
Event program with four main topics
More than 50 speakers will pool their expertise and discuss current developments, changes and challenges in the industry. Economy, Trends, Sustainability and Digitalisation – the lecture programme presents four main topics on four different stages: Economic Environment, Digital Era, Sustainable Future and Trends Spring.Summer 2024. The complete program can be found at: https://www.munichfabricstart.com/en/the-show/
Munich Fabric Start
24 – 26 January 2023
Bluezone & Keyhouse
24 – 25 January 2023