29/06/2022 –
Trade fairs
Texworld Evolution Paris gets ready for its summer edition
Texworld Evolution Paris will open its doors from 4 to 6 July 2022 at the Paris-Le Bourget Exhibition Center. 3 days of essential global offer for fashion brands.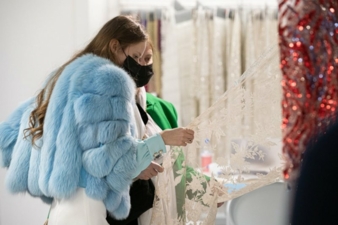 This summer edition – a first in July for the trade fairs of Messe Frankfurt France, whose flagship fair Texworld Paris is celebrating its 25th anniversary this year – will mark the return of the major sourcing countries to Paris, the capital of fashion.
Some countries, such as Turkey, are expected to participate at near pre-crisis levels: with more than fifty exhibitors, the Turkish pavilion at Texworld Paris has doubled in size compared to last February's edition. Korea and Pakistan return in number, as is Indonesia, which will present a particularly high-quality textile offer, especially in the field of silk and silk-like fabrics. After an absence of two years, Taiwanese cotton manufacturers are making a comeback in the Elite area. Ethiopia will also be present, with some twenty companies led by two international organisations, Solidaridad and GIZ, which are particularly active in promoting new CSR-oriented development models. There will also be a strong presence of Indian exhibitors, who were heavily impacted by the Omicron wave this winter.
Vision, trends and perspectives
True to its mission of openness, the Texworld Evolution Paris platform will present visitors with perspectives on market developments and the direction of demand. The art directors of the fairs, Louis Gérin and Grégory Lamaud, will reveal the Trend Book for the Autumn-Winter 2023-2024 season, called 24H01, and will present the creative directions that will shape the fashion of tomorrow. These major themes will be illustrated in concrete terms during conferences and trend forums on-site. The 24H01 Trendbook can be downloaded here.
With an eye always turned towards the future of textiles, Avantex Paris is designed around an offer of innovative Asian fibres, yarns and fabrics represented by China of course, but also by the notable Taiwan Textile Federation. France will be represented by companies offering innovative services such as production chain optimisation for fashion companies.
Organised as part of the Avantex Paris trade fair, which promotes suppliers of innovative solutions for an advanced and sustainable fashion, the Avantex Fashion Pitch rewards the best innovative fashion and textile projects each year. The selected candidates will present their work in a 5-minute pitch at the fair. The award, which offers start-ups international visibility among industry professionals, enables the winner to win a stand at the next edition of Avantex. 3 categories of projects are covered: services, textiles and soft materials, and fashion design.