24/01/2019 –
Techtextil/Texprocess 2019
— auf Deutsch lesen
Frankfurt becomes textile hot spot
This May, Techtextil and Texprocess, the two exhibition formats organised by Messe Frankfurt, are edging even closer together.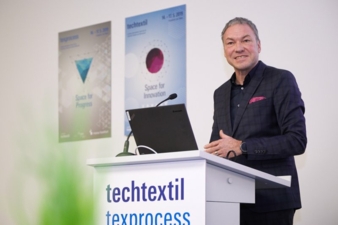 Both fairs are presenting a "mixed" hall for the first time. As a result, Hall 4.1 will provide trade visitors with a fascinating insight into the production of technical textiles right the way through to the finished technical product.
Texprocess will be featuring its Digital Textile Micro Factory here, with a production line for apparel, one for footwear and another for the processing of technical textiles.
Techtextil, on the other hand, is seizing this opportunity to showcase a selection of suppliers specialising in woven fabrics, laid webs, braidings, knitted fabrics, coated textiles and non-wovens as well as suppliers of textile machinery. The Techtextil Forum, likewise in Hall 4.1., is now taking place across all four days of the fair and is appearing in a new format, comprising presentations, discussions and an interactive offering on the topics of sustainability, digital transformation, smart textiles, urban textiles, composites and technical textiles in medical engineering. The forum replaces the Techtextil Symposium.
Texprocess: Space for progress
The range of technologies on show is becoming ever more extensive, with bookings already exceeding figures for the last event. This is creating a perfect set of conditions for textile processing companies wanting to gain an insight into the latest innovative machinery and processes for textile and flexible materials in Frankfurt. An exciting feature for fashion, the "World of Digital Fashion" presents six companies in Hall 4.0, spotlighting the ways in which their products can be integrated in different workflows within the supply chain, enabling visitors to experience a digital process chain first hand. The focus here will be on customising apparel and fashion.
Techtextil: Space for innovation
Under the banner "Urban Living – City of the Future", the international leading fair is casting its view to the future, exploring how technical textiles will shape urban life in years to come. The suppliers at Techtextil reflect the entire spectrum of technical textiles and non-wovens. Suppliers of technology, fibres and yarns are additionally turning out in greater numbers. As a result, visitors from industry, architecture and construction, fashion and apparel, automotive, aerospace and aviation, medical engineering, sports technology and industrial protection, will find a wider range of products and solutions in Frankfurt than ever before.
Techtextil/Texprocess
14–17 May 2019
Messe Frankfurt