27/11/2019 –
Sustainability in beachwear, lingerie and athleisure
— auf Deutsch lesen
MarediModa further on the road to success
The 18th MarediModa (5 to 7 November 2019) at the Palais des Festivals in Cannes registered a 3 percent increase in visitors.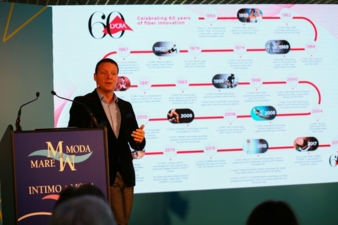 More than 3,100 buyers from Italy, Spain, France, the UK and Germany, and a considerable surge in visitors from the USA, travelled to Cannes to see 110 European exhibitors present their collections for summer 2021.
Claudio Taiana, President of MarediModa:
"It was, without doubt, one of the best events of recent years. This applies as much to the number and quality of exhibitors as it does to the atmosphere and general satisfaction of the visitors. The Trend Preview by David Shah, the new design of the trend presentation as well as the trend analyses, conferences and social get-togethers in the Palais des Festivals met with a warm response all-round."
New technologies
Exhibiting at MarediModa, The Lycra Company unveiled for the first time the Lycra FitSense Technology, a patented water-based dispersion, containing the same molecule as the Lycra fibre. In a move to offer additional functional advantages, such as lasting fit and targeted support where it is most needed, the liquid product is silk-screen printed onto fabrics with the Lycra Xtra Life fibre as a design or colour-blocking. This process eradicates the need for additional seams or thick panels which, in turn, maximises freedom of movement.
Penn Textile Solutions showed the "Revolution of Body Mapping". CEO Markus Regenstein explains: "Fabrics with stretch in one area and none in others are made on the same machine at the same time. Different power zones and stretch zones on the thighs or around the waste are all combined."
A matter close to President Claudio Taiana's heart is MarediModa's annual Student Competition which once again shone a light on plenty of creative potential. "It's imperative that the universities keep covering this small area of fashion," states Taiana.
The next MarediModa is scheduled to run at the Palais des Festivals in Cannes from 3 to 5 November 2020.
Read more about it in our upcoming issue textile network 1-2/2020.