21/01/2020 –
Flughafen Tempelhof hebt ab – Teil 2
Neonyt – Erwartungen wurden weit übertroffen
Kling, klong, zwitscher, bumm: die Neonyt Fashion Show war echt cool! Die Messe Neonyt im Tempelhof ein toller Erfolg. Es lebe die Nachhaltigkeit!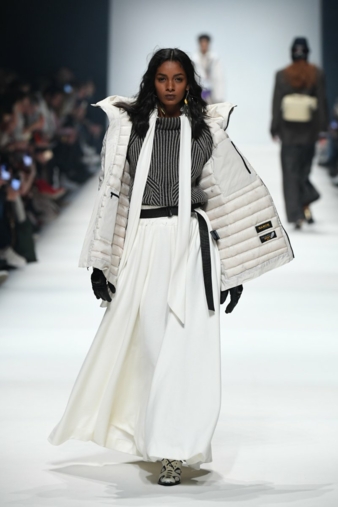 Die Neonyt Fashion Show
Es waren schon ganz besondere Klänge, die da aus den Lautsprecherboxen zur Neonyt Fashion Show im Rahmen der MBFW am 14. Januar 2020 im Kraftwerk Berlin auf die rund 700 geladene Gäste herunterprasselten. Straßengeräusche, Vogelgezwitscher, sonstige Klänge und damit ganz passend zum Thema "High Street Fashion meets Outdoor".
Der Mix aus Outdoor- und Performance-Marken in futuristischen Looks war cool und keine einzige Sekunde langweilig, eher überraschend. Die Multi-Label-Looks aus über 80 nachhaltigen Designerkollektionen, die von Claudia Hofmann, Stylistin und Co-Gründerin des Fashion Council Germany, erneut zusammengestellt wurden, machte deutlich: Fashion, die umwelt- und sozialverträglich hergestellt wird, schaut toll aus, macht Freude beim Tragen und gibt dem Träger/der Trägerin das gute Gefühl, das Richtige zu tun. Zugegeben: Nachhaltig hergestellt Mode kostet in der Anschaffung meistens mehr, sollte dafür aber länger getragen und wenn nötig auch mal repariert werden. Allein schon die Verlängerung der Tragedauer der Kleidung hilft dabei, die unsägliche Kleiderflut wieder einzudämmen – und mit einer so neu gewonnenen Wertschätzung unserer Kleidung tun wir nicht nur der Umwelt einen Gefallen, sondern vor allem auch uns selbst.
Die Labels der Show
AA Gold, Ackermann Ledermanufaktur, Africa 254 (FA254) Samra, After March, Alinaschuerfeld, Ambiletics, An Buermans, Andy-Wolf, Anek., Angela Ciobanu, Anna Schuster, Annette Rufeger, Antonia Zander, Armedangels, Arys, Balütta, Before 7 am, Biker-Zone, Boochen, Brachmann, Church of the Hand, Cloudy – Berlin, Dopper, Ecoalf, Esther Perbandt, Fade Out, Falke, Fjällräven, Folkdays, Forever, Friedrich Dippmann, Fub, Graciela Huam, Hanna Fiedler, Hessnatur, Hi on life, Høyem, Icebreaker, Ida & Volta, Imarit, Informis Studio, Iriedaily, Klättermusen, Langer Chen, Lani Lees, Lanius, Lara Krude, Layla De Mue, Lemon Jelly, Lil' Lapel, Saheli Women, Afterlife Project, Manakaa Project, Mandala, Marco Scaiano, Marria Roslova, Marita Moreno, Mies Nobis, Mimycri, Miomartha, Nakt, Natascha von Hirschhausen, National Geographic, Neubau Eyewear, Noah, Opaak, Paladium, People Berlin, Phyne, Pulva Jewelry, Quite Quiet, Recto Verso, Reer 3, Rhuuma, Sandermann, Schmidttakahashi, Scoop, Sepideh Ahadi, Skarabeos, SKFK, Skua, Sonja Tafelmeier Couture, Spatz Hutdesign, Stoffbruch, Swedish Stockings, Tata Christiane, The North Face, Timberland, Tretorn, Trippen, Vaude, Veja, Wayk´s, Wolfskin Tech Lab, World Pearls Love und Wunderwerk.
Neonyt im Flughafen Tempelhof
Der Besuch der Neonyt ist zur Berlin Fashion Week inzwischen fester Bestandteil im Terminkalender von immer mehr Einkäufern. Mit rund 13 Prozent hat sich der Anteil konventioneller Mode-Einzelhändler im Vergleich zur Winterausgabe 2019 mehr als verdreifacht, darunter Breuninger, C.J. Schmidt, Dodenhof, Engelhorn, Garhammer, Hellner Moden, Katag, Konen, Kaiser Mode, Polozek, Ramelow, Stephanies Göttingen, Meyer und Nehls oder auch Amazon und Zalando. Insgesamt rund 96 Prozent der Besucher der Neonyt waren laut der Befragung mit ihrem Besuch auf der Neonyt sehr zufrieden.
Mit mehr als 210 Sustainable Fashion Brands aus 22 Ländern versammelte die Neonyt vom 14. bis 16. Januar 2020 so viele nachhaltige Modemarken wie nie zuvor. Die Zahl der Fachbesucher verdoppelte sich im Vergleich zum Januar 2019 und mit mehr als 50 Programmpunkten lieferte die internationale Konferenz Fashionsustain viel Wissenswertes rund um das Thema Nachhaltigkeit in der Fashionindustrie. Ein Erfolg auf ganzer Linie. Mehr dazu in Kürze.