No.1 industry meeting of the 'profashionals' in China
More than 1,200 fashion brands will be present at Asia's largest and most influential fashion fair, CHIC Shanghai, from March 14 to 16, 2018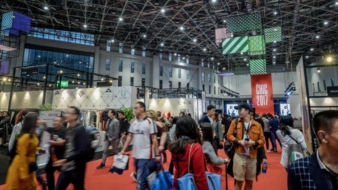 China's economy is back on track for growth after seven years: 6.9% economic growth in 2017; Chinese consumers are optimistic about the future, with more millionaires in China in 2018 than in any other country according to a recent McKinsey study. By 2025, their share is expected to account for 44% of purchases in the global luxury market, which is equivalent to around EUR 131 billion. In general, an obvious willingness to spend money has returned, which is also noticeable among middle to upper income groups. Quality is more important than quantity.
 Expenditure on the "key desires" in China is rising, and the supply of these goods is to be increased. Tariffs on consumer goods, including those for apparel and footwear, will be lowered to make room for international brands that can offer price
 levels in China comparable to their domestic prices. Important driving forces of consumption are China's millennials, who value authenticity, individuality and sustainability. Sustainability and health have become a key issue for consumers.
 The desire for individual offers and collections is taken into account by CHIC: the area of young design is extended and renewed; the retail sector, which focuses on lifestyle concepts and exclusive and creative brands, the multi-brand stores and boutiques have been targeted and have become co-operation partners of CHIC.
 For many areas of CHIC, there are long waiting lists, a sign of China´s positive economic development.
 Shows, seminars and service offer
 The CHIC shows provide information about current fashion trends in China and are a magnet for visitors, with more than 15 Chinese and international brands taking the stage to show at Asia's leading fashion and lifestyle fair. As part of the CHIC TALK, market experts and trend analysts will talk about current developments in the fashion business in China, both for offline and online business. WGSN reports on the trends for Autumn / Winter 2018/19, the topic of ecological fashion is taken up by the First China International Healthy T-Shirt Summit.
 CHIC March, Shanghai,
March 14-16, 2018!
National Exhibition & Convention Center
Shanghai