25/09/2018 –
Munich Fabric Start - September 2018
— auf Deutsch lesen
Over 1,800 trendsetting collections
The latest edition of Munich Fabric Startwelcomed over 20,000 designers, product managers and buyers of international brands and companies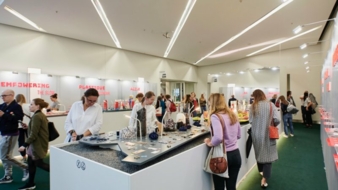 The fair was a unique demonstration of perspectives, innovations, of what is possible and, more importantly, of what is feasible – translated into over 1,800 trendsetting collections for Autumn.Winter 19/20. Supplemented by the trend and colour forums for fabrics and additionals in the foyer of the MOC as very aesthetically staged product infotainment whetting visitors' appetites for the collection ranges from the companies exhibiting in the yet again fully booked halls, atriums and studios.
The fabric and additionals collections at the MOC also demonstrated how strong and innovative tomorrow's trends are. Thus, material and finishing already act as definitive storytellers. In terms of the progressive users of Instagram & Co. designers go in targeted search of fabrics full of character and striking colours. Resulting from this is the comeback of label prints, for example. This is a key indication of how strongly sociological developments increasingly impact fashion.
Keyhouse - Create the Future!
The Keyhouse showcases new paths into the future for the sector: from state-of-the-art digitalisation applications and sustainable audience magnets in the Sustainable Innovations area to the smart and networked visions for the world of tomorrow.
"In a very accessible way Keyhouse creates the link between tradition and future, analogue and digital, between sustainable innovations and high-tech. By redesigning this segment alongside other areas such as ReSource we are creating new impulses and demonstrating future-proof process solutions. This underlines the progressiveness and our own dynamism at Munich Fabric Start, said Frank Junker, Creative Director Munich Fabric Start.
Wardrobe of the Future
A walk-in wardrobe featuring smart products who demonstrated how, already today, fashion technology can be deployed for ready-to-wear products or DMIx Cloud Showcase from Color Digital as a fully integrated cloud-based solution for colours were only two of the highlights in the keyhouse.
Resource – Sustainability in a New Dimension
Also achieving great acceptance was ReSource, the extended sourcing area that succeeded organicselection.
Apparel Sourcing – Targeted Network Platform
To complement the Fabrics, Additionals, Denim, Design Studio and Innovation Areas selected companies presented their product and service ranges for apparel sourcing in the Sourcing Showrooms in Atrium 3. Industry partners from Central and Eastern Europe spent three days gathering information on innovations and production processes.
Bluezone
Far in excess of 100 international brands presented their latest fabric developments beyond seasons at one of the world's most important denim shows. In focus here were state-of-the-art technological process solutions, trendsetting end uses as well as complex functionalities.
Many conversations revolved around not just new performance fabrics for denim aimed at achieving a soft touch and sporty looks but also new interpretations of rigid and raw denim for authentic heritage looks. However, topping all of this was the theme of sustainability in denim production that was discussed in numerous lectures and panel discussions on the part of manufacturers as well as the fashion industry.
patterns X.0 – The Expert Conference on the Future of the Fashion Industry
The expert conference patterns x.0 on the digitalisation of the value chain was held already for the second time now – as a cooperation between b4b GmbH and Munich Fabric Start. Visionaries and movers and shakers at international companies shed light on new perspectives for the digital future heralding in a new era of the fashion systems. The speakers here included Hans Hoegstedt, CEO at Miroglio, Jan Wilmking, CEO at zLabels, Magnus Edholm, CEO at Siemens and Dr. Andres Brill, Managing Partner at b4b GmbH.
Sebastian Klinder, Managing Director at Munich Fabric Start: "With View Premium Selection, with its early date in July 2018 and considerable rise in visitors, and the following Munich Fabric Start we have developed two consecutive trade fairs as a response to the early kick-off to the season. This allows us to react flexibly to scheduling needs and offer the industry a suitable platform at the right time in each case".
Munich Fabric Start 2019
The next Munich Fabric Start will be held from 29 to 31 January 2019.
The Bluezone will run from 29 to 30 January 2019.