07/05/2019 –
European Fashion Award Fash 2019
— auf Deutsch lesen
Two days of intensive workshops, exchange and networking
The European Fashion Award Fash 2019 focuses on the sustainable promotion of young design students. The closing date for entries is May 15th, 2019.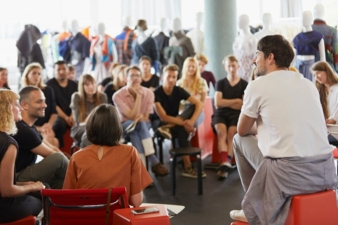 Exchange and networking
Already the up to 20 finalists receive extensive support: promotion in the social media, contacts and workshops with top-class experts and the jury on topics such as portfolio consulting, applicant training and pattern design from draping to digital techniques.
The prize winners will in addition not only receive prize money totaling 5,000 euros, but also intensive, individually tailored coaching, media work and other attractive prizes such as a paid internship at the workwear manufacturer Engelbert Strauss, where FASH winner Julian Weth already worked as designer.
Participants from all over Europe
The Europe-wide competition is aimed at particularly gifted students from all design disciplines in the three categories Students, Bachelor and Master. A jury of internationally experienced experts will select the winners on the basis of defined criteria.
Applications with a portfolio of previous work, motivation letter and curriculum vitae are possible until May 15th, 2019.
The new Fash Logo
Since many years, the European Fashion Award Fash is one of the most important awards for fashion students. The new Fash logo expresses this growing importance. The dynamic and modern trademark arouses curiosity and stands with its sharp cut for sophisticated fashion. The logo was designed by Julie Heumüller and Lilith Zachwieja at the renowned design studio Erik Spiekermann.
SDBI – Promoting Fashion Talents since 1978
The European Fashion Award Fash is presented by the non-profit Stiftung der Deutschen Bekleidungsindustrie (German Fashion Industry Foundation), SDBI for short. Founded in 1978, SDBI is the world's oldest organization for promoting fashion students.
The award winners have excellent career prospects. Over 40 supported talents work today for such internationally renowned companies like Adidas, Hugo Boss, Missoni or Dorothee Schumacher, for designers such as Vivienne Westwood or as university lecturers. In addition, they have often received numerous other awards.
From designers for designers
The European Fashion Award Fash is supported by SDBI, Messe München and its partners Deeken HR, Engelbert Strauss, Formes, Lectra, National Museums Berlin, Puma and Müller & Sohn. But it lives above all through private commitment: be it in the jury, the organization or a generous donation. The prize for the young creatives is thus largely supported by experienced creatives.