11/10/2022 –
Textile Printing
Mimaki announces Third Global Innovation Days Event
Global Innovation Days to return for the third time, 19–21 October 2022, reconnecting Mimaki regional offices, partners and customers across the globe.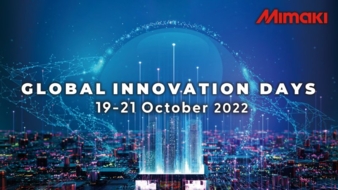 Mimaki announce their third Global Innovation Days, following the success of previous events. This collaborative virtual experience unites Mimaki's regional offices to discuss trends across the different markets and the American, Asian, and European regions operated in by Mimaki, through a series of live and pre-recorded demonstrations, webinars, and round-table discussions. The programme of events will be led by experts from Mimaki Europe, Japan, USA and Australia.
With a focus on addressing the queries and requirements across the many facets of the print industry, the event will see collaborations with the likes of Fespa, from whom spokespeople will be attending to discuss the latest trends and innovations identified at Fespa this year, as well as a look ahead to next year's event and what people can expect to see.
Attendees will also have the opportunity to further explore the latest additions to Mimaki's product portfolio, with demonstrations of the technologies and the applications that they are able to create coming live from the Mimaki showroom in Amsterdam. Another highlight of the event will be a discussion held with leading print media and software vendors, to examine the current market trends from outside of the manufacturing perspective.
While Mimaki Europe will only be contributing to the first two days of the event, there will also be plenty of other sessions led by the other Mimaki offices from around the globe, with the likes of the US team hosting a livestream from their stand at Printing United (Las Vegas, 19 – 21 October).