03/12/2020 –
Newly published by teNeues Verlag
— auf Deutsch lesen
Book tip: The Bible of the Interior Design World
Discover the most popular and pioneering interior design trends in this lavish 24th edition of the "Bible of the Interior Design World" (The London Times).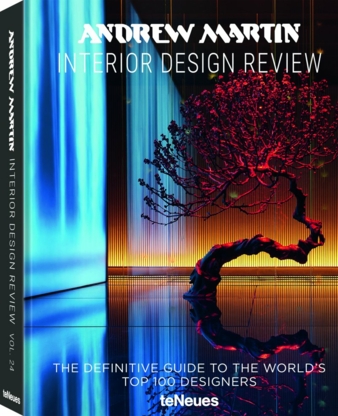 "Home is where the Heart is"– but please make it comfortable and stylishly furnished. This year, as every year, the Andrew Martin Interior Design Review delivers fresh interiors inspiration on over 500 pages. In Volume 24, the most varied and current design trends are shown: from vintage to modern, from Scandinavian sleek to opulent grandeur. Also presented is the "Designer of the Year", which is awarded by Andrew Martin as every year. Immerse yourself in the world of varied designs and be inspired by the individual ideas of the well-known interior designers. Founded in 1978 by Martin Waller, the company is known for its extraordinary style and the striking ideas of designers from all over the world. The richly illustrated annual review, with its bountiful range of home décor styles, colours and designs, is the best source of information for beginners, enthusiasts, and professionals alike.
the definitive annual anthology of interior design

over 500 pages and 1,000 remarkable photos of the latest décor trends

a wide range of interior styles, color schemes, and ideas for beginners, enthusiasts, and professionals
Andrew Martin, Interior Design Review Vol. 24
The Definitive Guide to the World's Top 100 Designers
published by teNeues
23.5 x 31.7 cm / 9 1/4/ x 12 1/2 in., 512 pages, Hardcover c.
1,000 color and b/w photographs
Text in English, 50 Euro, ISBN: 978-3-96171-278-6