Heimtextil: Around 1,000 registered exhibitors
Around 1,000 exhibitors of home and contract textiles from 46 countries have already registered for the Heimtextil Summer Special, taking place June 21–24, 2022.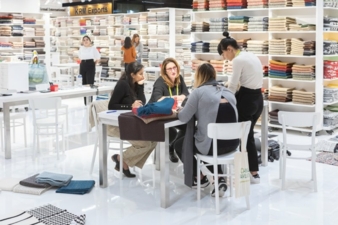 The one-time Heimtextil Summer Special reaches its first milestone: after the early booking deadline at the beginning of February, around 1,000 exhibitors from 46 countries have announced their participation. "We are delighted to see that within just a few weeks such a large number of exhibitors have already placed their bets on the Heimtextil Summer Special by announcing their participation. The very high level of international participation also underlines the global commitment of the home textiles sector," said Olaf Schmidt, Vice President Textiles & Textile Technologies. Among the exhibitors' countries of origin are France, India, Italy, the Netherlands, Pakistan, Portugal, Spain, Turkey and the United States. Interested companies can still register.
Manufacturers and wholesalers from 46 countries
The Summer Special in June 2022 will also be the central date for suppliers with a focus on large-volume orders and will bring them together with wholesalers, exporters, owners of chain stores and other volume-oriented buyers from Europe and overseas: "We are very pleased with the decision to hold the Heimtextil Summer Special. International face-to-face meetings with visitors and customers this summer – especially with wholesalers and chain stores – are important to showcase our products and strengthen business relationships," said Mário Abreu, Events & Marketing Manager of Elastron Group, Portugal.
New trade fairs rules facilitate international participation
The provisions of the Coronavirus Protection Ordinance of the State of Hesse currently allows the participation in trade fairs in Frankfurt with admission for vaccinated, recovered or negatively tested participants This makes it easier for international exhibitors and buyer groups in particular to participate, as they can do so independently of approved vaccines. This development shows: The use of protective measures at trade events and during business encounters is increasingly being viewed and evaluated as distinct from leisure events.
Heimtextil Conference "Sleep & More"
Consultancy and product offerings for the bedding trade will also be comprehensively highlighted at the Heimtextil Summer Special. The Heimtextil Conference "Sleep & More" will serve as a contact point for representatives of the bedding trade, where they can look forward to a top-class program of lectures, discussion rounds and product presentations.
Heimtextil trends and sustainability
The staging of Heimtextil Trends in hall 4.0 in the summer offers an in-depth insight into the furnishing themes of tomorrow. In this context, sustainability also takes center stage at Heimtextil. Heimtextil Trends 22/23 will highlight how important it is to focus more on the composition of textiles and to encourage companies to think in the long term.