05/12/2018 –
Purmundus challenge 3D printing design award
— auf Deutsch lesen
4D printing to achieve movement
The focus of the Master's thesis on "Using 4D printing to achieve movement" was on developing dynamic, form-changing and smart textiles.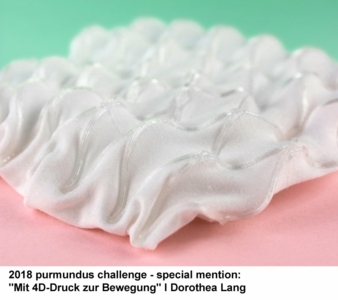 The aim was to pick up on the idea of "4D printing" in order to create functional, adaptive and active properties in fabrics. A large number of experimental material studies were carried out using 3D printing in order to investigate how to finish a textile surface with a 3D imprint in order to create a particular movement.
This was implemented by means of a targeted combination of fabric tension and a corresponding 3D structure, as well as a "smart" printing filament that can remember its shape. Thanks to this combination of materials the entire fabric surface adopts the shape memory and material intelligence of the printed material, allowing us to specify precise movement patterns that it performs independently in response to certain changes in temperature. The designed geometry is printed, which gives it a permanent form.
Increasing the temperature changes the structure of the plastic.
What starts off as a solid object becomes soft and flexible, and can be reshaped. This temporary form quickly re-hardens into a solid object again. Increasing the temperature again causes the shape memory polymer and therefore the entire fabric to return to the permanent shape that was originally printed.
 Because orthopaedics is a fascinating application for such fabrics, the design work is being carried out hand-in-hand with Otto Bock HealthCare GmbH. The comprehensive material studies served as the basis for working out two concepts showing how additive manufacturing could be used in the future to produce customised and adaptive bandages.
 Concept: "The dynamic bandage".
 Bandage with a form-fitting shape and individual reinforcing elements.
 Concept: "The smart bandage"
Adapting to the patient's body.
The purmundus challenge 3D printing design award
The purmundus challenge 3D printing design award was presented for the sixth time in Frankfurt as part of the Formnext exhibition. A total of six submissions received the coveted gold trophies.
 34 finalists from around the world presented their outstanding designs on the theme of "3D printing gears up our future" from 13 to 16 November at the Formnext exhibition. They offered fascinating insights and ideas regarding how products could be designed in the future, and the role of 3D printing in this context. Dorothea Lang won for her Master Thesis "Mit 4D-Druck zur Bewegung" the award "special mention".