Innovative Biosteel high-performance products
A strategic partnership with Gruschwitz Textilwerke AG to pave the way for further innovations in high-performance yarns.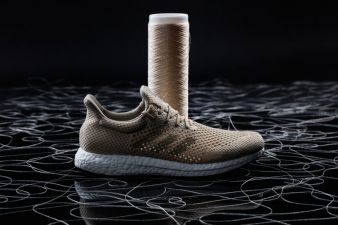 Amsilk GmbH, the world's first industrial producer of synthetic silk biopolymers, and leading yarn manufacturer Gruschwitz Textilwerke AG are extending their existing three-year collaboration in yarn development by forming a strategic partnership, designed to pave the way for further innovations in high-performance yarns.
Gruschwitz Textilwerke AG has a proven track record in high-performance synthetic yarns, making the company an ideal partner for Amsilk. The two companies first joined forces in 2014 to further develop and commercialise the Biosteel fibre. Although Gruschwitz is steeped in 200 years of tradition, it is by no means locked in the past, but is known for its dynamism and innovative spirit. The company from southern Germany has developed, for example, a special coating technology used in extremely resilient off-shore ropes made from DSM Dyneema. It also produces sophisticated yarns for Johnson&Johnson, a global market leader in medical textiles.
In 2015, the collaboration between Amsilk and Gruschwitz led to an industrial breakthrough: Rather than relying on specialised knitting machines to process Biosteel fibre, the companies optimised the process to make the silk biopolymers compatible with conventional knitting machines. This resulted in the first-ever textile fabric to be made from synthetic, biotechnologically produced silk fibres, which was nothing short of a revolution in the textile industry. This successful development work formed the foundation for the collaboration between Amsilk and Adidas announced in November 2016 which will focus on developing highly innovative sports footwear from Biosteel fibre.
Advancing Biosteel fibre
The objective of the strategic partnership between Amsilk and Gruschwitz is to develop innovative endless yarn products based on Biosteel fibre, above all, for premium target markets. Besides working on yarn design, the two allies also intend to intensify collaboration in the field of fibre finishing. This will allow Biosteel yarns to be brightened, finished or optimised for the application in question. Environmentally friendly and PFC-free finishes are generally used in this context. "Moving forward, we will be developing other pioneering products for the textile, automotive and aviation industries. All our products reflect our maxim to 'bridge the gap between opposites'. Take the new Adidas Biosteel fibre running shoe, for example, which combines high performance with 100% bio-degradability," states Severin Bertsch, Head of Fibre Business, Amsilk.
"We're delighted to be able to raise our excellent and long-term collaboration with Gruschwitz Textilwerke to the next level. From the outset, we were very impressed with their expertise, absolute reliability, creativity, motivation and, above all, their innovative approach," states Jens Klein, CEO of Amsilk. Ditmar Schultschik, CEO of Gruschwitz Textilwerke AG emphasises: "Here at Gruschwitz, we really value our cooperation with Amsilk because it complements our activities in the high-tech field. Amsilk is a young and dynamic company with a great product. For us, it was both challenging and fascinating to develop the processes for Biosteel yarns and an honour to accompany Amsilk along the path to market launch."
Biosteel Fibre: Revolution in yarn production
In 2013, after several years of research and development and more than 200,000 engineering hours, Amsilk became the world's first company to produce synthetic silk fibres in a patented and reproducible biotechnological process, creating the first truly environmentally friendly, high-performance fibre. In comparison with conventional fibres, the Biosteel fibre boasts some outstanding properties: It is extremely robust, lightweight (with a weight reduction of 30% compared to conventional fibres), antiallergenic, highly breathable and moisture-wicking. Biosteel textiles are already used in the apparel industry. The latest generation of this biopolymer is based on natural spider's silk – a natural material that is extremely resilient and elastic. Amsilk GmbH, the world's leading manufacturer of silk materials, produces the raw material using a patented and sustainable industrial process that does not use any animal-based constituents.
About Amsilk
Amsilk GmbH, based in Planegg, near Munich, is the world's first industrial producer of synthetic silk biopolymers. Amsilk's high-performance biopolymers are made in a patented and sustainable biotechnological process and are endowed with the unique functional properties of their natural counterpart. The high-performance organic material is highly versatile and can be used for a variety of different applications – both as a medical or technical material but also as a cosmetic ingredient. Amsilk's high-performance biopolymers lend conventional products valuable unique selling points. They are biocompatible, breathable and particularly sturdy.
Amsilk high-performance biopolymers are sold as silk beads (micro particles), silk gels (hydrogel) or as Biosteel fibres and are currently used for coating products used in medical engineering, in fabrics in the textile industry and as an ingredient in body-care products.
About Gruschwitz
Celebrating its bi-centenary in 2016, Gruschwitz Textilwerke AG is a medium-sized supplier to the processing industry, specialising in the development, production and distribution of technical and twisted yarns. The innovative expert from Southern Germany processes not only natural fibres but also almost every commercially available man-made and high-performance fibre using state-of-the-art twisting, winding and braiding machines. Efficient single yarn coating machines allow the yarns to be endowed with additional functions. Gruschwitz tailors its materials and production processes to specific needs, accompanying its customers in the automotive, industrial and medical engineering sectors from the idea to the finished product.