TITK: First lyocell fibre made from non-wood-based pulp
An article by Dr. Frank Meister, Department Head Native Polymers and Chemical Research at TITK.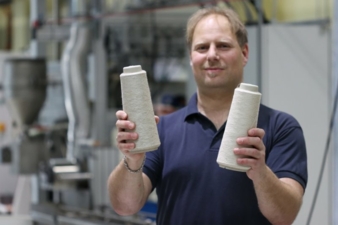 The limited capacity of cotton production is nearly exhausted, but the demand for textile fibres increases – especially caused by a rapid population growth in the Asian countries. This conflict also accelerates the demand for cellulose man-made fibres (CMMF) in such an extent that a CMMF gap of 30 to 50 million tons is expected in the middle of current century [1]. Therefor wooden pulp won't any longer be enough as the sole raw material for CMMF. Even if recycling of poly cotton fibre blends – the most common used fibre blend for clothing application – will get under way, the disposable amount of dissolving pulp wouldn't be sufficient. Plant fibres from cultivation or agricultural residues become more and more market shares. TITK and its subsidiary, smartpolymer company Rudolstadt also look around and both established a process for production of hemp based Lyocell fibres under the brand LyohempÒ.
LyohempÒ Pilot production – another step towards the market launch of the first lyocell fibre made from non-wood-based pulp
A more substantial use of bast and leaf fibres has been complicated up to now by the need of elaborated and environment damaging chemical pre-treatment procedures, when common wear properties and simple processing of those fibres are simultaneously trying to achieve. Also impracticality of short staple fibres textile processing, those could be isolated from agricultural residues, required coevally a conversion into dissolving pulp before spinning into CMMF.
The process developed at TITK supplies a sustainably manufactured hemp pulp meeting all purity requirements of the Lyocell process, when coming from hemp cultivation and mechanical separation of hemp natural fibres and hurds or shives.

Harmful and hazardous heavy metal ion are eliminated.

Furthermore, together with TITK the Czech company OP Papirna (part of Delfort Group) succeeded to prepare a cooking process for pulps meet all technical requirements.
The received LyohempÒ fibres hold comparable textile-physical characteristics as of Lyocell fibres as well as an improved moisture management and excellent dyeability especially by black dyestuffs. Apparel fabrics made of high yarn counts exhibit silk-like fabric flow and pleasant comfort to wear. All these advantages and the great interest of numerous garment maker moved the smartpolymer company to go next step in LyohempÒ commercialisation:
As from fourth quarter 2021 it is scheduled to transfer commercially produced fibres to selected manufacturers of branded textile goods to get more experiences for yarn spinning and finishing as well as clothing manufacturing and sale.
Last but not least it is of special interest, if LyohempÒ fibres could take up the well-known recycling properties of hemp natural fibres. Up to the last quarter of the 18th century they were the basis of a rash of hard-wearing, but absolutely reliable textile products like ropes, hawsers and canvas as well as durable and repeated usable paper for application as banknotes, shares and official documents. TITK is already targeted a public funded project for recycling of LyohempÒ fibres in order to make the new fibrous material possible a strong place in coming textile circular economy. In this respect hemp pulp based Lyocell fibres could become the first example which meets all challenges regarding sustainability and environmental friendliness from cultivation up to textile reutilization.