Gunold at the PVA: It's all about the Sparkle!
Premiere Vision Accessoires, autumn 2015: Gunold impresses visitors with specialty threads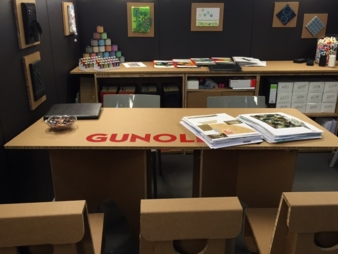 So what's new? – At this year's autumn edition of the PVA, which took place in Paris, in September, designers centered their attention predominantly on new products. Furthermore, at the top of everybody's wish list seemed to be everything that sparkles! And again, Gunold, the renowned company from Stockstadt Germany, offered exactly the right product: "Our new specialty thread Glitter, which is available in 24 unbelievable colors, was very well received", Stephan Gunold, Head of Marketing, is happy to announce. "In addition, our customers have been very responsive to the altogether new presentation of our threads. We have succeeded in reflecting the current "zeitgeist" in every respect, Stephan Gunold remarks, very pleased with this trade fair.
More than 61,000 visitors attended the autumn edition of Première Vision in Paris Nord-Villepinte , to inform themselves about new collections of fabrics , accessories , threads and leather at a total of 1,924 exhibitors. "Together with our Italian distributor Lustrosa we developed for the first time a joint yet sustainable concept for our booth and we hit the mark right on", Stephan Gunold states. The concept: furniture made of cardboard, threads behind acrylic glass, visualizing their use in decorative seams and displayed on black partition walls. Quite simple, but very effective! "Just like our products", Stephan Gunold remarks and he further explains: "The use of our threads in surface designs is very simple and comparable to sewing threads. Yet the effect that can be achieved with our special threads is impressive and may be the famous ultimate icing on the cake for the textile. Thus more and more designers who call on us appreciate these threads. "
And Gunold brought along a wide range of effective specialty threads, e.g the metallic thread Mety, the transparent thread Mono, the glowing threads Glowy and Fluor, the cotton thread Cotty and last but not least the special foil thread Glitter which was especially well received by designers in their search for trends for the autumn / winter season 2016/17! Glitter refracts light resulting in striking effects. It is also ideal for large-scale designs for both the clothing and accessory industry.
Of course visitors looked closely at the other novelties from Gunold, e. g the new special needle Z1 from Organ, an all-purpose embroidery needle, "when the regular all-purpose needle is not enough". This innovative needle, of the system DBXK5Z1-NY, which is available with an extra small point (Q-ball) and comes in sizes: 65, 75 and 90, protects the upper thread and prevents thread breakage and skip stitches. Furthermore, the cotton embroidery thread Cotty 30, now available in single 25g spools for every shade of the color card, the popular twill fabric Twilly which is now available on smaller rolls of 40cm x 3 m. Also very useful is the new Starter Kit Basic – ideal for getting to know the quality of the embroidery materials. Product offerings, Gunold has specially tailored to designers as well as for smaller collections and were therefore very well received.
Good to know that Gunold offers a wide selection of instructional videos on their webpage, button Video – Training, covering topics such as appliqués, 3 D embroidery using Puffy as well as specialty threads. Check it out; it might be worth your while! For more information, particularly about the new seminar schedule please refer to www.gunold.de
About GUNOLD
With over 80 years of experience, GUNOLD, based in Stockstadt, holds a key role in the embroidery industry, offering a wide range of products for all your embroidery needs. As a trusted partner for every embroiderer, Gunold continuously expands its state-of-the-art range of embroidery supplies. Major sales items are high quality embroidery threads mainly for the use on modern, process-controlled, high speed machines. As a leading supplier for all embroidery needs, GUNOLD offers innovative, high-quality products, manufactured in Europe, thus being a driving force for new production processes and innovative products. The maxim is to increase productivity in the embroidery industry.