Mimaki: New TS500P-3200 inkjet printer targets home furnishing textiles and indoor soft signage
High mix, low volume textile trend ups the super-wide ante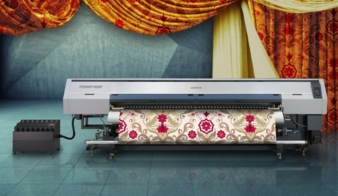 Mimaki, a leading global manufacturer of wide-format inkjet printers and cutting plotters for the sign/graphics, textile/apparel and industrial markets, is to launch the super-wide format TS500P-3200 inkjet printer come February 2016. This 3.2-m wide roll-to-roll sublimation inkjet printer is a dedicated transfer paper printer for the textile industry and is ideal for a broad range of applications including home furnishing textiles and indoor soft signage.
Tailored for the growing close-to-home personalisation trend
"On-demand inkjet printing systems are increasingly being used for clothing production instead of conventional analogue systems because of their ability to quickly provide high-mix, low-volume printing," states Mike Horsten, General Manager Marketing EMEA at Mimaki Europe. "It started with the fashion industry putting the benefits of on demand digital printing to good use for tailored and variable print quantities. We see the trend expanding now to interior decoration and home styling. Moreover, the change is not limited to the production method, but also to production location. Production sites get shifted from low-cost remote locations to urban areas closer to consumers. We believe this trend will extend to the production of extra-wide textiles for home furnishings from curtains to upholstery and bed linens. Personalisation and delayed delivery do not mix well."
Lean, mean and green
The super-wide format TS500P-3200 inkjet printer, ideal for printing on such fabrics, features a new type of printhead to deliver high-speed printing at 180 m2/h. There are 12 printheads arrayed in three staggered lines that eject ink droplets at high speed to maintain the appropriate ink droplet angle and ensure accurate drop placement with a high head gap. This ensures high-quality printing results on low-cost thin transfer papers.
Mimaki's Advanced Pass System 4 (MAPS4) anti-banding function smooths the swath boundaries with reduced numbers of droplets to provide even more beautiful printing. In addition, the newly designed Auto Media Feeder (AMF) allows stable transfer paper feeding at the high-speed setting in order to maintain print quality.
In addition, the environmentally friendly output does not emit volatile organic compounds after printing and helps reduce CO2 emissions during transportation because it is lightweight and foldable.
The Mimaki TS500P-3200 delivers a number of production benefits:
• 3.2m super-wide printable width is practical for sublimation transfer printing on extra-wide fabrics for curtains, bed linens, and other home furnishings. • printing speed of 180m2/h for high productivity • new printhead and feeding mechanism ensure high speed and quality printing on 3.2m wide media • AMF is capable of feeding media up to 3.2m wide and of 130kg and can maintain stable feeding to achieve high-quality printing • cockling-reduction transfer mechanism supports high-speed production on wide papers • high performance RIP software TxLink3 Lite to specify the ink volume per colour, and produce large seamless patterns from a single image (including repeat and mirror patterns).
Uninterrupted printing is aided by the Nozzle Check Unit (NCU) that automatically detects and cleans clogged nozzles while the Nozzle Recovery System (NRS) uses only good nozzles as substitutes, when the clogged nozzles are not recovered after cleaning. Large ink containers in the external ink supply unit support continuous printing.
Dream big and wide
The interior decoration market is a growing one, as Horsten concludes: "Demand for indoor fabric signage is increasing as compared with PVC solvent printing. This is in part due to its flexible production that allows designs to be highly creative and responsive to fashions, trends and demands. Mimaki is thrilled to be able to deliver the solution to meet the request of this market. You cannot put a stop on imagination, this solution ensures you don't have to stop printing it."
More details about Mimaki and its expansive product portfolio can be found at www.mimakieurope.com
About Mimaki
Mimaki is a leading manufacturer of wide-format inkjet printers and cutting machines for the sign/graphics, industrial and textile/apparel markets. Mimaki develops the complete product range for each group; hardware, software and the associated consumable items, such as inks and cutting blades. Mimaki excels in offering innovative, high quality and high reliability products, based upon its aqueous, latex, solvent and UV-curable inkjet technology. In order to meet a wide range of applications in the market, Mimaki pursues the development of advanced on-demand digital printing solutions. Mimaki Engineering Co. Ltd., (President: Hisayuki Kobayashi) Nagano (Japan), is publicly listed on the Tokyo Stock Exchange, Inc.