New products with highest standards
Innovative textiles with function, design and environmental compatibility are the highlights of Trans-Textil at the Techtextil.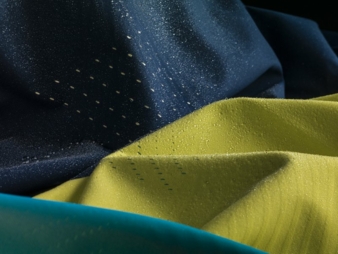 With Topaz Aquair, Trans-Textil GmbH is presenting its breathable imitation leather laminates on a purely water-based polyurethane formulation for the first time. Alternatives free from organic solvents are also used in the latest generation of products for the VAP lightweight construction process. The other novelties by the specialists for multifunctional textile composites are also full of innovative and sustainable solutions – from the fully Standard 100 by Oeko-Tex certified product portfolio for protective clothing and PPE to 3D warp knit hybrid laminates to the extended offer for shoe components, outdoor, sports and leisure clothing as well as spun dyed textiles for surgical laminates.
Whether personal protective equipment or outdoor clothing – the users expect functional textiles to provide, not only reliable protection against the elements rain, wind, heat, cold and other environmental influences, but also comfort and sophisticated performance. At the same time, the requirement scenarios for multirisk protective clothing are becoming more and more complex, and the combination of function and fashion aspects is a trend that calls for innovative ideas in all areas of application. On the other hand, the ecological demands are growing. The compatibility of high, targeted protective effect and modern designs with careful use of natural resources are the central points of Trans-Textil's own sustainability concept Topaz Elements and an incentive for the development of innovative products.
Aquair – water-based breathable imitation leather
A specially developed coating process and purely water-based formulation components are the starting point for Aquair, the highly breathable synthetic leather by Trans-Textil, which will be presented for the first time at Techtextil. The manufacturing process not only completely dispenses with organic solvents, but also offers a high degree of design freedom in terms of structure, colouring and technical properties of the abrasion-resistant Aquair functional layer. In conjunction with the extensive portfolio of membrane systems, substrates and textile technologies, the unique Point-in-Point lamination process creates sophisticated multi-layer products for shoe, apparel, furniture or accessories.
3D Warp Knit Laminates – targeted controlled performance
With the 3D Warp Knit laminates from the Topaz Fusion collection, Trans-Text GmbH and its partner Penn Textile Solutions have achieved a true textile innovation "Made in Germany". Targeted functional areas based on body regions for protective, outdoor and leisure clothing are integrated directly into the digitally controlled knitting process. For example, mesh zones with targeted hole size for tailored breathability or abrasion resistant 3D structures can be placed exactly where they are needed. For a clearer view, transparent or coloured membrane systems from Trans-Textil are used as the design highlight in the 3-layer laminate. The special processing of the functional hybrid systems in the Trans-Textil lamination process not only ensures high comfort, protection and longevity, but also maintains the 4-way stretch factor for optimum ergonomics and freedom of movement. Oeko-Tex certified materials of European origin, PFC-free finishing from the Topaz clean4green line and short distances between the manufacturing sites through processing in Germany also ensure an environmentally responsible process chain.
Ecological responsibility in the overall concept
"In addition to our team of textile chemists and technicians as well as the cooperation with partners, we have created our own specialist department for materials and substance management. It follows current developments and future trends as the basis for the development of new products," explains Trans-Textil Managing Director Dipl.-Ing. Wilhelm Krings. In this way, it is possible to implement the requirements of regulations, certifications and individual environmental programs of the customers in a targeted and forward-looking manner. In addition, Trans-Textil has made extensive investments in energy-efficient plant technologies for the processing of environmentally friendly water-based formulations, in its own application technology department, quality assurance and research projects. "Our claim is to continue to lead the way in terms of ecology and technology," says Krings.
The success of this commitment is confirmed by the extensive certification of the product portfolio according to the latest human ecology criteria of Standard 100 by Oeko-Tex, which also includes the waterproof breathable membrane systems based on PU (polyurethane), PES (polyester) and alternative systems. The company has also been ISO 14001 certified for more than 10 years and has been repeatedly included in the Bavarian Environmental Pact for its additional voluntary environmental benefits. The multifunctional products meet the high protection requirements of the European standards for highly visible warning clothing (EN 20471), fire service clothing (EN 469) and heat protection clothing (EN 11612), clothing for protection against bad weather (EN 343) and cold (EN 342), antistatic protective clothing (EN 1149 ), surgical gowns and drapes (EN 13795) or safety shoes (EN 344).
Trans-Textil at the Techtextil
Hall 3.0, stand H 56