09/07/2019 –
Wear It Innovation Summit
— auf Deutsch lesen
A must visit for all wearable tech stakeholders
More than 600 participants attended the 6th Wear It Innovation Summit in Berlin, Europe's leading platform for professionals in the wearable tech industry.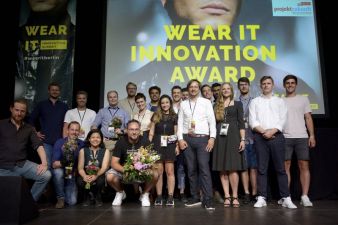 Already in its sixth year the conference is organized by Wear It Berlin, a Berlin based product development agency which aims at facilitating and fostering innovation in the wearable tech industry.
NEW. SURPRISING. GAME-CHANGING.
Based in Europe's startup capital, Berlin, Wear It Innovation Summit is the only event with a main focus on product development and a spotlight on cross-industrial networking. Showing the potential of cutting edge technologies to stakeholders in different industries, the event enables them to take part in this new and rapidly growing market of wearable tech.
Under the Motto "New. Surprising. Game-Changing.", the event offered attendees the opportunity to get inspired by the brightest minds in the industry in more than 60 talks and explore new opportunities, collaborations and ideas in over 10 workshops and networking sessions on their topics of interest.
Finally 13 international startups pitched their business cases in front of a high class jury. One of the most demanded topics was discussed in the "Medical Disruption" track which demonstrated future applications which have massive market potential, outgrowing the market potential of smartphones.
From hearables, or smart diapers to arm prosthesis, Wear It Innovation Summit had it all. The goal is not just bringing together the brightest minds, but creating an industry. With over 50 conference partners and exhibitors, attendees could accelerate their businesses, take value and have an impact on the future of wearables.
Organiser Thomas Gnahm, Founder and CEO at Wear It Berlin GmbH:
"Our goal is not only to bring together the brightest minds in wearable tech, but help creating an entire industry! This year we were proven right by Polar's release of the Polar Ignite Watch at Wear It Innovation Summit, two hours before the world release."
Industry leaders are driven to attend the event each year by the meaningful collaborations that arise. Wear Innovation Summit has developed into a platform which brings together industry leaders such as Polar, Microsoft, Hugo Boss, H&M and many more under one roof, and the reasons are plenty – from innovating their own products, solutions or creating potential for their businesses. Companies are driven to attend Wear It Innovation Summit each year by meaningful collaborations that develop during the event.
The Wear It Innovation Award
Wear It Innovation Summit addresses decision makers, Startups and game-changers and politicians alike. The Wear It Innovation Show gave 13 Startups the chance to pitch tech products and service solutions for different industries, from head-mounted cameras, to body armour and a smart diaper, in front of the Grand Jury.
Jury member Peter Bona, Head of Design at Hugo Boss:
"I always try to explore boundaries and break the rules in a kind of way. I am very impressed by the quality of the presenting Startups at Wear It Innovation Summit."
The winner of the Wear It Innovation Award 2019 is Vyoocam, whose product runs mobile apps on a wearable camera.
The initiator behind the events is Wear It Berlin GmbH, a Berlin based rapid product development agency that works for clients like Siemens, Deutsche Telekom, H&M, Stihl or Elten Shoes.