A wide range of knitting solutions
Stoll will be presenting a wide range of knitting solutions for the medical, sports, mobility, home and smart textile sectors in Frankfurt.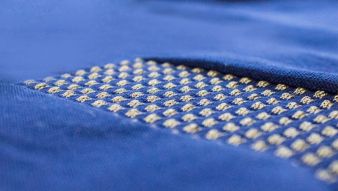 Through its various Technical Textiles clusters, Stoll presents its versatility within the field of technical applications. Stoll will also present knitwear characteristics and appearances based on products from the weaving, braiding and warp knitting sectors. Due to the versatile product design, the expertise and the competencies of Stoll in the field of applied knitting technology, the company establishes itself as an innovative and successful partner for consulting and development of technical knitting solutions – all of which will be demonstrated during the exhibition.
Microfactory
At Texprocess, which takes place in parallel to Techtexil, Stoll will be presenting a completely digitized workflow, as part of a microfactory, together with DITF (German Institute for Textile and Fiber Research). The integration of Stoll's new software solution knitelligence and DITF's 3D processing tool enables efficient automation for design development and production.
Stoll at the Techtextil
Hall 3.0, stand F 39.
Stoll at the Texprocess (together with DITF)
Hall 4.1, stand D 45.