25/03/2022 –
Needle and sinker for staple fiber
— auf Deutsch lesen
Cost savings loop by loop
Knitting staple fibers comes with its own challenges. Groz-Beckert has the solution: needles and sinkers with the suffix SF.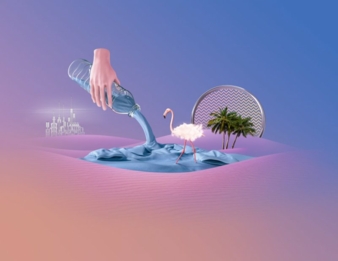 When using staple fiber yarns on large diameter circular knitting machines, accumulations of fiber residues, fiber abrasion, dirt and other yarn components can result in deposits in the tracks of the needle and sinker carrier. These deposits often lead to different positions of the needles and sinkers in the knitting machine, causing problems such as lines in the fabric or damage to the needle or sinker. Then the only remedy is cleaning. The machine must be stopped. The needles must be removed to clean the needles and machine in a time-consuming process. Production must wait.
Fiber residues – unavoidable but controllable
This is where the new Groz-Beckert SAN SF special application needle comes into play. It's special shank geometry prevents residues from getting under the needles. This means that the machine can run for much longer without the necessity to remove the needles for cleaning, even when processing staple fiber yarns. And therefore the machine can produce more fabric in the same time.
On its lower edge the shank of the SAN SF needle is closed, meaning without cut-outs. It therefore fills the entire space, leaving no room for residues to accumulate. The needle stays in its position and keeps the needle track clean for longer. On its upper edge the shank has humps to transport fibers out of the needle track.
Sophisticated technology does the trick on tracks
Optimal results are achieved by combining SAN SF needles with SNK SF sinkers. SAN SF needles effectively help to prevent the accumulation of fiber residues and yarn abrasion between the needle back and bottom of the needle track. The special shape of the SNK SF sinker with its opening in the front significantly reduces lint accumulation in the verge ring. The cleaning effect thereby extends the period between cleaning cycles. In field tests, the combination of the SAN SF needle and the SNK SF sinker resulted in an average extension by factor 3.
The successful special application duo stands for uniform loop structure and smooth production. The use of the patented SAN SF staple fiber needle and the patent pending SNK SF staple fiber sinker significantly reduces maintenance requirements and consequently labor costs. The frequency of faults due to contamination-related vertical lines is minimized.