Digitalisation, connectivity and sustainability
The processing of fashionwear, apparel and textiles for the upholstery sector and automotive industry is changing rapidly.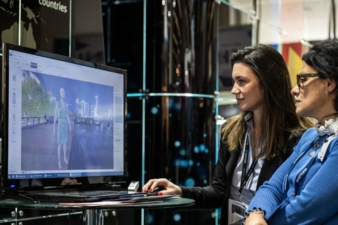 At Texprocess in Frankfurt am Main, the sector presented itself in all its dynamism.
Detlef Braun, Member of the Executive Board of Messe Frankfurt:
"The exhibitors at Texprocess once again represented all the stages in the textile production chain, from computer assisted design to cutting and seaming technologies, finishing, logistics and recycling. Neither the apparel or leather-goods industries, nor furniture manufacturers or, indeed, the automotive sector can afford to ignore Texprocess."
Strong growth in visitor numbers, especially from Europe
With 212 exhibitors from outside and 105 from within Germany, the level of international participation reached 67 percent. New this year were Finland, Denmark, Ukraine, the Dominican Republic and Singapore. The leading five countries in terms of exhibitors, after Germany, were Italy, China, Taiwan, Japan and Turkey. China, Japan and Taiwan were also represented by national pavilions.
The increased visitor numbers at Texprocess came mainly from European countries. After Germany, Italy, Turkey, France, Portugal, Romania, and Poland ranked amongst the most strongly represented nations as far as visitors were concerned. The rise in visitor numbers was due chiefly to participation from Japan, the Netherlands, Switzerland and France.
Digitalisation
The overriding theme of Texprocess – subsumed under the heading 'Impact 4.0' – was the continuation and development of Industry 4.0 together with the changes that it brought with it as a component in the value-creation chain.
Elgar Straub, Managing Director VDMA Textile Care, Fabric and Leather Technology:
"Digitalisation and connectivity have reached the second phase in the sector. As a result of the incorporation of artificial intelligence, many processes are more easily controlled and even new business models become possible."
Ketty Pillet, Vice President, Marketing Gerber Technology:
"Our customers were delighted to be able to check out our revolutionary digital, end-to-end solution at Texprocess. It enables them to create tailor-made and customised products in small runs. Our fully integrated process, which incorporates 3D and cloudbased PLM, takes products from design to production, at the same time as enabling the integration of digital printing. And it enables our customers to work quickly and flexibly, whilst at the same time reducing costs and storage requirements."
Texprocess Innovation Award
Three of the four winners of the 2019 Texprocess Innovation Award received the prize for new digital solutions:
Dürkopp Adler AG won over the adjudicators with the new M-Type-Delta sewing machine, which learns independently and can be integrated into fully digitalised production lines in the automotive, upholstery and leather industries.
Assyst GmbH received the award for their new, innovative 3D process, which significantly alters the way the value creation chain in the textile industry functions.
Lectra were singled out for their fashion-on-demand technology, the first end-to-end solution for the personalisation of fashionwear.
The fourth Texprocess Innovation Award went to Vetron Typical Europe GmbH for their ultra-light sewing unit with carbon components.
Techtextil and Texprocess: an ideal combination
Held in parallel with Texprocess, Techtextil, the leading international trade fair for technical textiles and nonwovens, drew 1,501 exhibitors from 57 countries and 42,500 visitors from 105 countries, including visitors from Texprocess, to Frankfurt's Trade Fair and Exhibition Centre. Together, the two trade fairs welcomed 1,818 exhibitors from 59 countries (2017: 1,789 from 66 countries) and 47,000 visitors from 116 countries (2017: around 47,500 trade visitors from 116 countries).
The next Techtextil and Texprocess will take place from 4 to 7 May 2021 in Frankfurt am Main.