02/03/2021 –
In challenging times, strength lies in community
— auf Deutsch lesen
Fespa: Greeting to the industry from Neil Felton
Neil Felton, CEO, Fespa: "A year of unexpected twists and difficult decisions lies behind us and challenged all of us in different ways."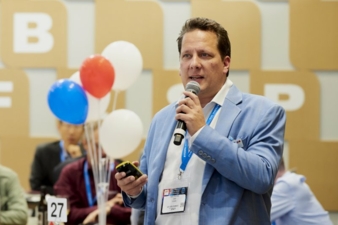 For all of us in the world of wide format print, 2020 was a year of unexpected twists and difficult decisions. The constantly changing conditions created by Covid-19 challenged all of us in different ways.
At the beginning of December 2020, we at Fespa were on course to deliver our live Fespa Global Print Expo and European Sign Expo events in Amsterdam in Spring 2021. I never imagined that we would have to postpone the event again. But, in the face of continued uncertainty around travel restrictions in Europe, we took the only reasonable decision in the interests of our exhibitors and visitors.
The delayed event will now take place from 12–15 October 2021 in Amsterdam. By then, I'm confident we can bring together the most comprehensive line-up of suppliers, who will have a huge number of innovations to share. And by Autumn 2021, I believe we'll all be readier than ever to step out of our routines and re-connect with one another in the real world.
From our exhibitors to our members, everyone we speak to tells us that we need live events. That they are fundamental to the recovery of our sector from the obstacles thrown at us by the pandemic. We need clear business strategies, and we need to invest if we are to move forward and meet the changing needs of our customers. To do that, we must see products close-up, compare solutions from different suppliers, speak with experts.
But above all, to recover and make progress, we need to come together as a speciality print community. Together, we can assess our opportunities, share ideas, and be inspired and energised by one other.
Community has always been at the heart of Fespa's philosophy as an international business support organisation. For over 50 years, our purpose has been to help speciality printers to succeed. In 2020, without our live events, conferences and seminars, we focused on supporting our national Associations to help members locally.
We've also invested in expanding the advice and educational content available via our online platforms. If you're looking for information about latest products, our online showroom at www.fespaglobalprintexpo.com brings together news and technical information from our exhibitors.
If automation, process control and sustainability are your priorities, our Fespa Coffee Break webinars are available online and are a great source of expert advice. They cover the critical topics that we believe will be important elements of most recovery strategies, and we're continuing to develop this series in the coming months.
It's important to us that our expert content is accessible, so we've recently translated the most recent material on www.fespa.com into 36 languages. You can now access a wealth of information in German, and other languages, for the first time. Fespa is here to support you with knowledge, education, and best practice advice, and to help you make meaningful connections that help you thrive, whatever the backdrop.