Green plastic recycling with enzymes
The Austrian Centre of Industrial Biotechnology (ACIB) is developing solutions for tackling environmental pollution by plastics.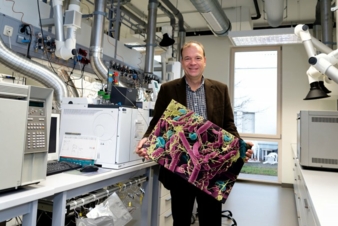 It has two processes that should be ready for industrial implementation within just a few years: ACIB has developed the most advanced recycling process to date for the polymer PET. Natural enzymes allow the individual components of the plastic – which is processed into synthetic fibres or plastic bottles – to be fully recovered, whilst retaining the same level of quality. Another application tackles the recycling of various polymers such as cellulose, polyester and aramid from composite materials and mixed waste. This is another important milestone, since such processes have hitherto been economically viable only when working with pure fractions of plastics.
Countless research projects across the world are seeking solutions to the global problem of environmental plastic pollution. The Austrian Centre of Industrial Biotechnology (ACIB) has discovered one of the most promising approaches, identifying enzymes that are capable of breaking down the polymer PET into its constituent parts for recycling. "In Europe, about 25 million tonnes of plastic waste are produced every year at present but only 30 percent of this is recycled. A considerable proportion, therefore, is getting into the environment, where it decomposes very slowly, if at all," reveals Georg Gübitz, Professor of Environmental Technology at the University of Natural Resources and Life Sciences in Vienna, a researcher at the Austrian Centre of Industrial Biotechnology (ACIB) and a pioneer in the field of PET recycling using natural enzymes.
Read more in our print edition textile network 5-6/2019.