16/02/2021 –
Trützschler Nonwovens and Trützschler Card Clothing
— auf Deutsch lesen
Let's get virtual – an experiment
In November 2020, Trützschler staged a virtual in-house fair. Was it as simple as just going online and did it work and feel like a real trade fair? The company shares its experience.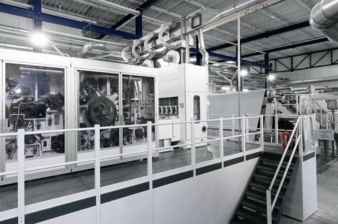 In the days before the coronavirus pandemic, companies in many manufacturing industries across the world would organise their work rhythms around the trade-fair circuit. Trützschler and other textile machinery makers would fit their development activities around the leading fair ITMA. And it was not just development and marketing that was orientated towards international, regional, and industry-specific exhibitions. Fairs also played an unofficial, yet important role for sales.
After all, project discussions would take place at exhibition stands. Representatives would introduce prospective customers and long-standing partners would spontaneously drop in for a quick catch-up with some familiar faces. The conversations would revolve around innovations, trends, products and ideas, and sometimes also more personal matters.
Face-to-face meetings are extremely important for human beings as they give them the opportunity to get to know each other better and to build confidence and trust.

A bad partner can lead to considerable financial risks and even jeopardise a company's very existence.

As people, we try our best to minimise risk by convincing ourselves through personal exchanges that we are, in fact, dealing with a sound partner.

And we do this not just once, but time and again.
Suddenly, we have found ourselves in a position where this personal contact has been cut off for many months. The doors of trade fairs and conferences have remained firmly shut and visits to customers and prospective leads have been put on hold. And yet, corporate life continues, as new projects have to be discussed and decisions made.
One benefit of the pandemic has been the rapid advance of digitalisation. Many of us have been helped in our daily communications not only by email and telephone but also by video meetings. From a technical and organisational point of view, shifting a trade fair, in-house event or conference online is quite straightforward. There are, of course, the usual digital teething problems but on the whole the various systems all function well.
Trützschler organised its own virtual in-house fair in November which attracted more than 250 external visitors. There may have been the odd technical hitch here and there, but the visitors will barely have noticed. And we must not forget that physical trade fairs are also subject to the odd technical difficulty with stand personnel being experts in improvisation.
Such hiccoughs give rise to a long list of "lessons learnt", ranging from the colouring of notifications to details in invitation management. The main point is that staging a virtual fair requires a very different approach to a physical fair.
What is the true value of a physical exhibition? Trade fairs offer a whole range of efficient opportunities...
... to present innovations to a broad audience.
... to test the response to new products.
... to supply customers/prospective leads with new ideas.
... to discuss concrete projects.
... to get to know each other better or even personally and to build trust.
The most important advantage of a physical fair is having the visitors' undivided attention. An exhibition creates a fixed time window during which visitors are completely immersed in the event and are not distracted by daily business. Visitors and exhibitors are open to new ideas and focus on the person in front of them.
It is a mistake to believe that a "trade fair" can go online and everything else will be the same. Yes, innovations can be unveiled, and a platform created for direct interaction. A virtual event cannot, however, force people to visit the websites. Going digital means being available – so, the digital event quite naturally finds itself in competition with daily business operations which, if we are perfectly honest, always have priority.
The blessing of the digital world – being available at any time and any place – is also its nemesis.
It is all too easy to promise yourself to look at the content later – and before you know it, the three days or two weeks of the virtual fair have been and gone.
How can this dilemma be solved?
In recent months, we have seen a variety of different approaches: Some events lure visitors with prizes for attending or the opportunity to communicate with exhibitors. Others offer exhibition discounts or incentivise visits by organising pre-arranged events.
Trützschler Nonwovens and Trützschler Card Clothing ventured down the path of sending out personal invitations. And yet, motivating customers to attend a virtual event does not automatically mean it will culminate in a conversation. Perhaps it has something to do with the nature of new media, but there was a definite reluctance among visitors to converse in the chat room or request a video call.
Even so, we will continue down the digital pathway, especially given that 2021 is not going to be a "normal" year. Experimenting with various options is intriguing – not least because we are yet to find an ultimate solution for staging virtual events. Trützschler is convinced that virtual events will continue into the future – even when we can travel again and attend real trade fairs with real people.
Jutta Stehr, Senior Marketing Manager, Trützschler Nonwovens & Man-Made Fibers GmbH