The TX801 digital textile printer
The TX801 - Mouvent's new breakthrough digital textile press - was one of the main attractions at the ITM 2018 in Istanbul.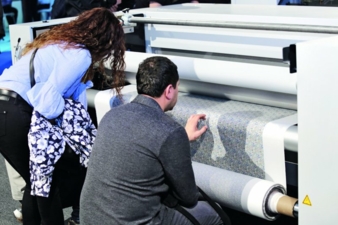 The TX801 is a digital multi-pass textile printer with eight colours, delivering excellent print quality on textiles and achieving an optical resolution of up to 2000 dpi as well as high printing speeds. Reto Simmen, Chief Business Officer at Mouvent: "We know we've created something really pioneering that gives the market exactly what it needs at the moment: an extremely compact, simple, yet reliable industrial printing machine that can print on a wide variety of substrates at competitive prices."
The TX801 applies the revolutionary Mouvent Cluster Technology for its compact proprietary print engine development, integrating Fuji Dimatix Samba print heads. The result is a print-head arrangement that takes up less space and volume, making the machine one of the smallest industrial digital inkjet printing solutions available on the market. Even so, the TX801 does not compromise in any way on performance or quality, regardless of the substrate used. Boasting an extremely high optical resolution of up to 2,000 dpi, it can print up to 8 colours, achieving an output of up to 200 m2/h. The machine can process knitted, woven and nonwoven textiles with a maximum fabric width of 1820 mm and roll diameters up to 400 mm. What sets this technology apart from others is that it can apply up to 16g/m2 ink in a single pass, allowing up to 50 % of printing jobs to be printed without several passes over the same printing spot.